Four New Indie Games In The Works Sponsored By IGN, GameSpy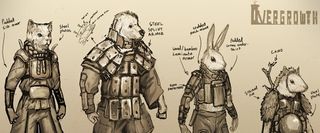 IGN and their subsidiary, GameSpy, obviously see the creative ingenuity bottled up in the indie community and they're willing to work closely with select teams to help get innovative and creative new projects off the ground that could potentially help shape the next generation of gaming.
GameSpy Technologies Indie Open-House has moved into the second round of the program, where they have invited four different indie teams to work in their facilities with provided tech support, media coverage and technology to bring their games to life.
For six months Cryptic Sea, Interabang Entertainment, Misfit Attic and Wolfire will be working in the IGN-owned office studio to flesh out their respective projects.
Drew Curby, Senior Director, GameSpy Technology commented in the press release saying...
I'm probably most excited to see how Wolfire comes out of the whole ordeal. They're the guys behind the whole Humble Indie Bundle charity concept, as well as the highly anticipated OverGrowth, which is an open-world, physics-based fighting game.
Cryptic Sea's Alex Austin also shared a few of his thoughts on the project, saying...
Each developer will have exclusive access to IGN's headquarters, participation in the demo days to help get their games noticed by publishers, retailers, media and IGN and GameSpy's editorial teams, as well as free licensing to the GameSpy Cross-Platform API Tech.
If you're an indie dev looking to break into the industry with a great idea or the know-how but you just need that little extra boost to get your project off the ground, feel free to check out the Official IGN Open-House Program Website to see if you qualify to participate.
Staff Writer at CinemaBlend.
Your Daily Blend of Entertainment News
Thank you for signing up to CinemaBlend. You will receive a verification email shortly.
There was a problem. Please refresh the page and try again.