Free World At War Map, More Nazi Zombies For PS3/Xbox 360 Owners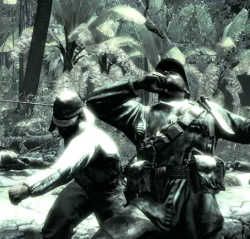 Starting today, Xbox 360 and PS3 owners can download a new map for Call of Duty: World at War for free. The release of the new map coincides with the release of the second title update.
The catch is that it's just an old night-time map (Makin) that's now set during the day. But at least it's exclusive, right? Well, not exactly - PC users got the map earlier in February with a patch. PC owners getting DLC before your console? Oh, the embarrassment.
The most notable part of the patch is the fact that the Nazi Zombie co-op multiplayer mode is now available to all regardless of whether you finished the single-player campaign. Here's the full list of major changes courtesy of the official game forums:
Added support for downloadable maps – free downloadable map "Makin Day" now available to Xbox 360 & PS3.
Improved host migration functionality.
After Action Report now displays full post-game stats.
Nazi Zombies is now unlocked for solo & co-op games for EVERYONE in both private and public games!
Added defensive measures to prevent "Stats Reset" when corrupt data is detected.
Addressed issues where some solo progression data was lost when a player had collected Death Cards in a split-screen co-op game.
Patched all known MP map exploits – this fix will also prevent players from passing through geometry/terrain if a new hole is discovered.
Patched a number of Nazi Zombie exploits.
Addressed an issue commonly referred to as the "elevator glitch."
Disabled "Rocket Jumping" – this eliminates the extra boost created by all explosive weapon types.
Addressed some score reporting anomalies in the War and CTF leaderboards.
Blocked the ability of players with lower level accounts from accessing higher-level Perks.
Addressed an issue in Search & Destroy where bomb planting/defusing was disabled when opening the overhead map.
Disabled ability to get unlimited ammo when prone with a deployed bipod.
Addressed an issue with Bouncing Betties triggering when the player is within the detonation radius but behind a solid wall.
Improved squad functionality.
Fixed an exploit where Hardcore matches could be ended immediately by team killing.
Staff Writer at CinemaBlend.
Your Daily Blend of Entertainment News
Thank you for signing up to CinemaBlend. You will receive a verification email shortly.
There was a problem. Please refresh the page and try again.