GTA 5 Online High Life Update Adds New Apartments, Lets You Rearrange Garages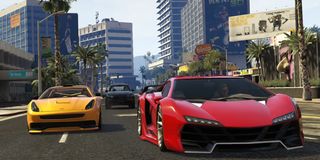 Rockstar Games has clarified some details on the upcoming High Life Update for GTA Online. The free update will provide some much-needed changes for players' safehouses.
When they first announced the High Life DLC, Rockstar said that it would give players "new high-end apartment options." Players weren't sure whether the studio was actually adding new apartments to the game. They thought Rockstar was just referring to multi-property ownership, another feature of High Life. A member of the development team cleared up the confusion on the Rockstar Support forum (via Reddit):
"These are brand new apartments, so we are talking about new interior as well. I don't want to spoil everything for you, though, so stay tuned for the update!"
Players will be able to own two properties once the update goes live. Each of these properties has a garage. When you call your mechanic for a vehicle delivery, you'll choose which garage to access and then the vehicle.
Owning two garages also gives players an opportunity to reorganize their collections.
"You will be able to drive your vehicles from one garage into your second garage," Rockstar said in a different support thread. "If you drive them in from your first garage to the second in a particular order, they will be rearranged in that order in the garage."
The High Life Update also gives players four new vehicles to purchase, such as the Pegassi Zentorno sportscar and Dinka Thrust motorcycle. Stores will be stocked with classy new threads and a Bullpup Rifle. Rockstar is also throwing in some new Jobs for the game as well.
Rockstar has yet to say when they're releasing the High Life Update. All they've confirmed so far is that it's coming this spring. This, naturally, has led players to hold their breath every Tuesday.
The anticipation isn't just because of the High Life Update itself. The release of High Life means that the game's one step closer to getting co-op heists, the next thing on Rockstar's to-do list for GTA Online.
GTA Online was rocked by an exploit earlier this week that allowed players to purchase whatever they want for no cost. Rockstar was forced to deactivate the Content Creator, the feature that made the exploit possible, while they closed the loophole. They managed to bring the game back to normal the following day.
While it's possible that this whole brouhaha had no effect on the High Life DLC's release date, they might also be holding off on releasing the content to make sure that the game's completely clear of the exploit. They don't want to release a bunch of new items into the game and then see cheaters immediately buy them up. It's counter to the entire point of these updates: they entice players to buy GTA$ with real-world cash so they can afford the newly added items.
Your Daily Blend of Entertainment News
Staff Writer at CinemaBlend.