GTA 5's Online Mode Will Only Support 16 Players, Says Rockstar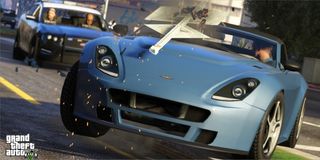 The official Rockstar Twitter has chimed in on the discussion regarding the spread of info detailing some of the online portions of the latest Grand Theft Auto game. We managed to take a look at the configuration files for the Xbox 360 version of GTA V and while it shows a max player count of 32 players, Rockstar says that the online mode will launch with only 16 players.
CVG and MP1st have reported on the leaked code relating to many of the settings and modes in GTA Online, and both have also updated their info with Rockstar's official response, which we can gladly embed below without worrying about lawyers sending us threats with obscene fines.
So to add a bit of clarity to this: Hackers sifted through the files of GTA V after dumping the contents from the Xbox 360 to PC (I'm not going to say what tools they used or reprint the procedure to do so, but I can say... Google it!) Many of the bright minds who managed to dump the files also decided to share them. We managed to get our hands on the files courtesy of friendly Russian coders and tips from our readers. Looking through the config files from the Xbox 360 version of GTA V revealed that there is a lot more to GTA V than what's available on the current gen home consoles.
As mentioned in previous articles, we're prohibited from sharing any of the code or photos of the code lest we get hit with a threat of copyright infringement or worse yet, outright sued without warning. So anyway, the code in one of the dumped XMLs pointed to a player cap for the online mode and it showed 32 players. I was very skeptical about this for current gen consoles given how badly both the Xbox 360 and PS3 struggle to play the game as it is, not to mention things like disappearing cars and poor framerates.
Many people speculate that Grand Theft Auto V was actually developed on PC and scaled to consoles. The config files, the previous XML dumps and some of the features point to this possibility. With this in mind, gamers believe that the 32 player configuration setting is actually for PC and next-gen versions of GTA V. The evidence does seem to point to this possibility.
However, Rockstar has not officially confirmed a PC or next-generation console rendition of Grand Theft Auto V. So for now, despite the fact that we have indisputable evidence directly from the game itself showing 32 players, Rockstar is saying that GTA's online mode will only be 16 players on Xbox 360 and PS3. They can play coy about it but they obviously have a bigger version of the game waiting in the wings based on the siphoned data so far.
I just want to know how long we'll have to wait until Rockstar announces the release date for the definitive version of GTA V?
Staff Writer at CinemaBlend.
Your Daily Blend of Entertainment News
Thank you for signing up to CinemaBlend. You will receive a verification email shortly.
There was a problem. Please refresh the page and try again.