The Game Awards 2015 Will Honor Command And Conquer Studio Founders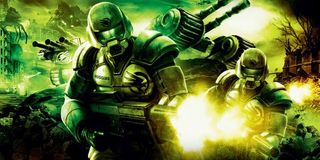 The organizers of The Game Awards will be giving out another Industry Icon Award this year. The 2015 recipients of the award will be Westwood Studios co-founders Brett Sperry and Louis Castle.
Some of you younger gamers might not recognize the name "Westwood Studios" because the company closed more than a decade ago. However, the studio, founded in 1985, was a major influence on the industry. Their 1995 game Command & Conquer helped mainstream the real-time strategy genre. It also spawned numerous follow-up games, including the Red Alert sub-series and shooter spin-off Renegade. Over 30 million copies of C&C games were sold worldwide as of 2009.
While Command & Conquer is the reason most people have heard of Westwood, they made plenty of other quality games over their two decades of existence. BattleTech: The Crescent Hawk's Revenge and Dune 2 both helped move the strategy genre from turn-based to real-time combat. Their Eye of the Beholder role-playing games made Dungeons & Dragons adventures into video games years before the Baldur's Gate series.
Westwood's years of excellent games led them to be acquired by Virgin Interactive in 1992 and then by Electronic Arts in 1998. The company's time as an EA subsidiary was turbulent, with many employees leaving as soon as they were purchased. The general fear seems to be that EA would run Westwood with a heavy hand and ruin the culture that allowed them to be successful. EA ultimately liquidated the company in 2003 after Renegade underperformed in sales. John Riccitiello, former CEO of EA, admitted in 2008 that they had meddled too much with the Westwood and other developers they acquired, such as Bullfrog:
The paths of Westwood's co-founders diverged after EA dissolved the studio. Brett Sperry founded Jet Set Games and now runs an art gallery in Las Vegas. Louis Castle stayed on as an executive at EA Los Angeles before stints at InstantAction and Zynga. He's now the creative, artistic and technical director for Castle Production Services.
It's a shame that Westwood Studios doesn't still exist today. Seeing Castle and Sperry receive recognition for their studio's many achievements will be great, though. The video game industry's constantly losing its past as studios shut down and games fall out of print. It's nice to know that at least this little section of video game history won't be forgotten.
The Game Awards 2015 will stream online on December 3 at 9 PM Eastern Time. You can read the full list of nominees for the awards here. In addition to plenty of awards, the show will also feature several big game reveals. Check out our predictions for the show here.
Your Daily Blend of Entertainment News
Staff Writer at CinemaBlend.
Your Daily Blend of Entertainment News
Thank you for signing up to CinemaBlend. You will receive a verification email shortly.
There was a problem. Please refresh the page and try again.