The Golf Club, Procedural Golf Simulator Coming To Xbox One, PS4 This Summer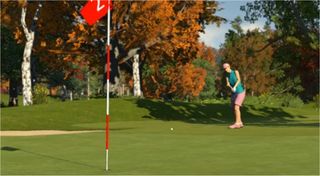 Already available on Steam's Early Access, The Golf Club is a procedural gold simulator aimed at capturing the attention and focus of gamers who may have grown tired of EA's Tiger Woods games.
Previously, it was revealed in April that The Golf Club would be coming to home consoles "soon". However, no one knew when the game would be coming, and "soon" in video game development terms could sometimes mean five years.
Thankfully, this game won't be delayed by five years and is actually set to arrive much sooner than you may have anticipated, as developer HB Studios made it known on the official PlayStation blog that the game is scheduled to appear on the PS4 and Xbox One this summer.
The hook of the game is in the customizable courses that can be procedurally generated within seconds. This means that the game has an infinite amount of replayability, with players being able to create brand new courses whenever they get bored with the old ones. You can see it in action with the trailer below.
There's also an interesting feature (well, not really but still) that lets you play against your friends online even when they're not online. And get this, it doesn't rely on Microsoft's Azure.
"But how?! What black magic is this?"
It's called online "ghosts". It's a feature that's been around for quite some time in multiplayer games, even available in games like Trackmania where players can race against friends and rivals alike even when they're not online.
Basically, you can play against your friend's "ghost" on a course, which is similar to playing against someone's replay. Yep, just like Forza Motorsport 5's "cloud" based Drivatars.
It's not magic... just sound development.
But, given the reliance on user-generated content, the developers have something in place to curate said content, as noted on the blog...
This is great news for anyone who really gets knee-deep into the game and only wants the best content made available, just as well for casual players who don't want to spend what little time they have wading through more crap than a mechanic using a junkyard to find non-damaged parts for foreign super-car.
You can look for The Gold Club to launch this summer for the Xbox One, PS4 and PC. To learn more about the game feel free to pay a visit to the official website.
Your Daily Blend of Entertainment News
Staff Writer at CinemaBlend.