Ground Branch, Tactical UE4 Shooter On PS4 Is A Good Bet, Says Dev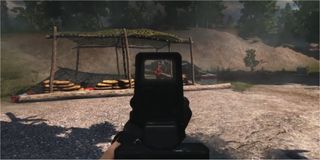 The successfully Kickstarted tactical first-person shooter, Ground Branch, which is also running on Epic's latest version of the Unreal Engine 4, is being aimed for release on the PlayStation 4 after development on the PC version is complete. Yes, the PC version is lead... the way it should be.
The news comes courtesy of an interview conducted by OnlySP, where they spoke with Blackfoot Studios' owner, John Sonedecker, who briefly mentioned what the team's plans are regarding a launch of the title on the PlayStation 4, saying...
Becoming a registered developer with Sony has been eased up. The company took massive steps to redo their position on developer relations following the abysmal early run of the PlayStation 3, where developers such as Gabe Newell ripped Sony a new one on how unfriendly the ecosystem was of the PS3 toward both consumers and developers.
Just last year Sony announced that they were waiving patching fees for developers, as well as getting rid of the concept approval process for independent developers, making it easier and more convenient than ever to get a game finished and released on the PlayStation 4, almost identical to the illustrious sixth gen, where the PS2 royally owned up by having a diverse and eclectic collection of games across every genre imaginable.
Sony has really come a long way, eh?
Head of talent relations, Adam Boyes, has been going over and beyond to secure the talents of up-and-coming studios and developers, including reaching out to Garry Newman of Garry's Mod fame, in order to get some talks going about Rust appearing on the PlayStation 4.
But we all know the whole fallout between the Xbox One and PS4 as far as indie support goes (and to be fair, yes the Xbox One will be receiving some indie support starting this March), but the real question is if Ground Branch is a game worth getting on PS4?
Well, that's a hard question to answer, because it all depends on what you're looking for out of a game.
Ground Branch is a throwback to Rainbow Six-style tactical realism over run-and-gun gameplay. You'll need to watch your six, hunker down and use your head. The game shares a lot of similarities with Arma and this could make it a standout game when it does arrive on the PS4.
Of course, you'll probably want to see what this Unreal Engine 4 title is packing under the mechanical hood, and you can get a small taste of the prototype gameplay in the video below. Also, be sure to check out the full article on Blackfoot Studios' upcoming FPS over on OnlySP.
Staff Writer at CinemaBlend.
Your Daily Blend of Entertainment News
Thank you for signing up to CinemaBlend. You will receive a verification email shortly.
There was a problem. Please refresh the page and try again.