Gunz: The Second Duel Looks Badass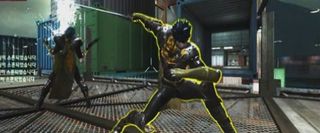 Maiet Entertainment hasn't been sitting around all those years just throwing around cash from the original Gunz: The Duel. Instead, the devs have been hard at work on a sequel to the popular free-to-play title, including advancing the graphics, updating the gameplay engine and adding in a ton of awesome new content.
A gameplay video for Gunz: The Second Duel has surfaced featuring the game's new character classes, as well as some of the additional features such as brand new guns and gun-types, such as sawed-off shotguns, gatling guns, riot shields, and brand new melee and grab-moves. The game, so far, looks badass.
One of the highlights of Gunz 2 is that free-running has returned and the entire game is now physics-based using Nvidia's PhysX, including physics-based boss battles and destructible environments. This means that doors can be blown wide open, boxes can shift, objects can collapse and tons more. All the diving and Max Payne-style gun-dynamics are also present and many of the popular stages are redesigned for today's generation of PCs.
I just hope this time out we actually get more guns. One of the biggest drawbacks to the original Gunz is that it just didn't have enough guns!
You can keep up to date on all things Gunz 2 by visiting the Official Maiet Entertainment Website.
Features:
?MORE diverse gameplay - Including all popular features from GunZ 1, GunZ 2 has adopted the class system to provide different skills and performance with different weapon classes so you can make and raise a character of your style to create an original gameplay.
?ULTIMATE acrobatic action - The unique acrobatic action of GunZ has evolved even farther. The wall action from previous version is strengthened and now the characters can enjoy even more spectacular acrobatic action of jumping and hanging on wherever they want.
?Easier gameplay - Previously GunZ required high level of user control for actions but the action control is improved so anyone can easily boast high level actions.
?Physics engine merged PERFECTLY with the game - At the collapsing and destroying battle field, the user can use not just his weapon and technique but also the objects and environment for the battle.
?Improved PvE system and huge bosses - In GunZ 2, you can experience strategic and intense fight where user can cling on to the boss whose height exceeds over 20 meters and climb it up to attack its weak point.
Your Daily Blend of Entertainment News
Staff Writer at CinemaBlend.