Half-Life 2 Remake Launching This Week For Free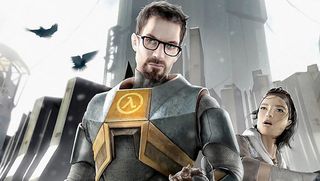 A crew of amateur developers has stepped into Valve's shoes by creating a long-overdue update for Half-Life 2. The mod, dubbed Half-Life 2: Update, will bring a decade-old title into the modern era with graphical upgrades, big fixes, and a handful impressive add-ons.
For Half-Life super fans, this mod is a godsend. Valve hasn't touched HL2 for a very long time, and, as far as I can tell, the modders have been careful to preserve Valve's original intentions. Plus, NVIDIA, EVGA, and Origin have endorsed the title, and Valve has given the mod its stamp of approval. So, even though this isn't exactly "official," it does feel like a healthy compromise.
And no one really knows when that third sequel will actually hit the market.
Yesterday, one of the developers, Filip Victor, uploaded a release trailer for Half Life 2: Update. You should probably check it out (via PC Gamer):
So, what can you expect from the mod? Well, here's the breakdown:
Complete lighting overhaul including enhanced lighting, more detailed world shadows, and full High Dynamic Range Lighting (HDR).
New particle effects and improved fog.
Countless bug fixes, correcting both visual and game-based issues.
An extensive Community Commentary Mode featuring the voices of well-known Youtubers, including Caddicarus, Brutalmoose, Ricepirate, Balrog the Master, ProJared, and Ross Scott from Freeman's Mind .
Retains the iconic Half-Life 2 visual style and gameplay.
All available in one free standalone download!
The mod itself isn't small. You'll need to clear 7GB of space from your hard drive before clicking the download button. But, judging by this comparison video, it'll be worth deleting those baby pictures:
This isn't the first time that Half-Life has been given facelift by the fans. Back in 2012, an amateur development team called Crowbar Collective released a total remake of the original Half-Life. The game, christened "Black Mesa," ported Valve's 1998 classic to the Source engine, updating the graphics and physics along the way.
Critics and gamers instantly loved it. The game picked up some very respectable review scores and solidified Crowbar Collective as a legitimate, albeit slow, development team. Though, when it comes to Half-Life games, Crowbar's slowness doesn't even compare to Valve's.
Only time will tell if Half-Life 2: Update lives up to Black Mesa's standard. But it's good to see Half-Life inspire gamers and developers after over a decade on the market. Though, I think we can both agree that a Half-Life 3 announcement would have been preferable.
If you'd like to give Half-Life 2: Update a try, you can find it on Steam. Also, did I mention that it's free? Because its free.
Your Daily Blend of Entertainment News
Thank you for signing up to CinemaBlend. You will receive a verification email shortly.
There was a problem. Please refresh the page and try again.