Halo 5 Is Adding Hardcore Control Options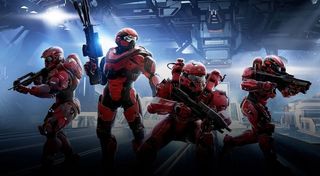 Halo 5 is about to make fine-tuning your aim a lot easier in an upcoming update, with advanced controller settings giving players the chance to adjust their look acceleration, inner and outer dead zones.
Set to hit the Xbox One next week, the upcoming Halo 5 update will likely look familiar to PC gaming fans. Console shooters typically offer look sensitivity sliders these days, but Halo 5 is primed to give its players even more control over how they interact with 343 Studios' newest FPS. Rather than simply adjusting you X and Y axis look sensitivity, players will soon be able to adjust additional setting to make sure their aim is as precise as possible.
According to a recent update from the developer, these new changes will be included in the Cartographer's Gift update coming to Halo 5 sometime next week.
For those of you who are unfamiliar with these types of settings, the post goes on to give a nice description of each.
Put simply, look acceleration determines how quickly you'll move to your maximum look speed when you fully press the joystick in a direction. Some folks prefer that shift to be instantaneous while others prefer a more gradual acceleration. This option getting added to the control menu will allow you to find your own comfort zone while shooting your fellow Halo 5 players online.
Dead zones are also getting an adjustable scale. The inner dead zone is the area around the thumbstick that is ignored for input. In other words, if you only slide the stick slightly, your character won't try to look off in that direction. It's similar for the outer dead zone, only on the far perimeter of the thumbstick's movement. The other big difference is that the outer dead zone determines when you've pushed the thumbstick over as far as you want to hit 100 percent of movement. Adjusting the inner dead zone will prevent you from experiencing unwanted movement if the thumbstick doesn't reset properly to zero when you're no longer moving it, while the outer zone will let you determine how much finesse is needed to reach top speed for turning/aiming.
Again, these aren't adjustments typically available in console games, so it's nice to see them getting added to a competitive shooter like Halo 5. We're sure it will go nicely with that new controller Microsoft has coming down the pipeline, too.
If you're still unsure of how these options work, the original post offers some great tips on how to adjust them to your liking. Or, if you feel like Halo 5 is already precise enough for your liking, feel free to ignore these options and just keep on playing like normal.
Staff Writer for CinemaBlend.
Your Daily Blend of Entertainment News
Thank you for signing up to CinemaBlend. You will receive a verification email shortly.
There was a problem. Please refresh the page and try again.