Halo 5 Launch Gameplay Trailer Begins Hunt For Master Chief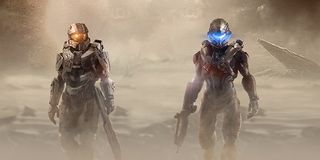 The next chapter in the Master Chief saga is set to unfold on Oct. 27, with Halo 5: Guardians gearing up to take the Xbox One by storm. Before that can happen, though, it's time to take a gander at one final trailer that pits a group of Spartans against a fallen hero.
The Halo 5: Launch Gameplay Trailer is now live, reminding gamers of what they can expect out of this latest adventure in just a couple of short weeks. Enjoy.
While the first half of the trailer does a nice job of setting the tone for Halo 5: Guardians, the second half finally dishes out that "gameplay" footage promised in the video's title. It's not like we haven't seen Guardians in action before, though, as 343 Industries has been awfully giving in the hype department. We've seen plenty of behind-the-scenes footage at this point, as well as an entire section of live gameplay during Microsoft's E3 2015 presentation.
This launch trailer takes a kitchen sink approach to promotion, giving a little bit of story before capping it all off with brief looks at all sorts of different types of gameplay. You'll be driving, flying, mounting turrets and leaping into action once Guardians arrives, all of which get a bit of attention here.
Honestly, that's exactly what I look for in a Halo game. It's easy to roll our eyes at the standard FPS formula that alternates shooting with stuff like a driving-while-everything's-exploding or an on-rail shooting section, but those cliché beats certainly help change up the pace. As much as I enjoy a game like Destiny, I'd kill for a dogfight sequence at this point.
With the next Halo already in the works, it appears as though Guardians is setting up a big shift in the series' narrative. With Master Chief slowly fading into the background, it appears that the universe itself, as well as a more dynamic cast of characters will become the central focus.
In case you're starting to feel left out, don't forget that Microsoft has an Xbox One bundle with your name on it, so now might be the perfect time to make the jump into current gen and follow the Spartans on their hunt for the truth.
If, however, you've already got a console and are just waiting until Oct. 27 to finally dive into Guardians, perhaps listening to the game's theme on repeat will help you pass the time.
Your Daily Blend of Entertainment News
Staff Writer for CinemaBlend.
Your Daily Blend of Entertainment News
Thank you for signing up to CinemaBlend. You will receive a verification email shortly.
There was a problem. Please refresh the page and try again.