Listen To Halo 5's Main Theme Right Now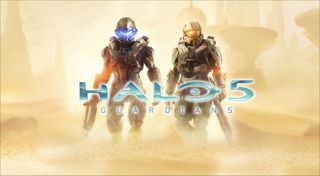 The official theme song has been made available in its entirety over on YouTube. Gamers can listen to the theme song right now to get a feel for how the game will sound under composer Kazuma Jinnouchi, who is continuing the work from Halo 4 after the original composer, Marty O'Donnell, took leave and followed Bungie to work on Destiny.
The theme song is four minutes and 13 seconds long. It contains a lot of the same cues and sounds that O'Donnell had crafted for the series since its debut back in 2001, and you can hear a lot of familiarity as well as new themes and cues as well. Check it out below, courtesy of YouTuber Halo Memes.
It's very interesting that we're able to hear some of the new theme songs for upcoming games as a way for companies to promote their new titles. Just recently Bethesda Softworks had let loose the new and improved theme song for Fallout 4 from composer Inon Zur. I loved the fact that there was a detailed blog post explaining exactly how Zur came up with the sound for Fallout 4 and the process for giving a certain kind of auricular atmosphere to the game through certain instruments.
Unfortunately there's no accompanying blog post for the theme song of Halo 5: Guardians, but we did learn previously that Jinnouchi would be handling the composing duties of the game but we only had snippets and collages of certain themes and music made available. For instance, 15 minutes or so of the soundtrack was leaked of Halo 5 back in early August.
The theme song above is part of a two-disc soundtrack set for the upcoming first-person shooter from 343 Industries and Microsoft Game Studios for the Xbox One. The first disc contains 24 original songs made specifically for the shooter, while the second disc contains 15 songs. While the song titles might give hints about certain events in the game, they aren't put together sequentially so it's not like you can pinpoint spoilers through the song titles alone.
The music of Halo has always been a strong part of the series' appeal. The theme song is almost as iconic as that of Super Mario Bros, The Legend of Zelda or Super Metroid. It's nice that Jinnouchi has taken time to pay a lot of homage and respect to the work that Marty O'Donnell put into the original trilogy and Halo: Reach and it's good that Microsoft and 343 Industries respects the roots of the series, because it's in respecting the past that you can secure a better future.
Whether or not Halo 5: Guardians turns out to be a good game is a whole other story, but so far there is a lot of excitement and anticipation circulating around the newest game in the franchise.
It will be interesting to see what the sales looks like for the game given that there's roughly only a 14 million install base and that means that we're likely looking at the game only selling at the top end of the spectrum, maybe 10 million.
You can look for Halo 5: Guardians to launch exclusively on the Xbox One starting October 27th. You can also pick up a copy of the game's soundtrack from participating retailers.
Your Daily Blend of Entertainment News
Staff Writer at CinemaBlend.
Your Daily Blend of Entertainment News
Thank you for signing up to CinemaBlend. You will receive a verification email shortly.
There was a problem. Please refresh the page and try again.