Harvest Moon Developer's Story Of Seasons Gets New Trailer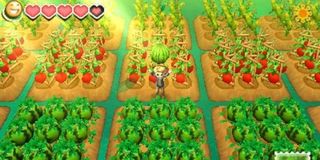 Customization is the name of the game in Story of Seasons, the new life-simulation and farming game heading to the 3DS on March 10. This lighthearted romp got a bit of attention during yesterday's Nintendo Direct presentation, complete with a new trailer showing off some of the game's new customization features and mechanics.
For those who may have fallen out of the loop and find themselves thinking: Hey, that looks like Harvest Moon! That's because Story of Seasons is the latest Harvest Moon in every regard but name. It's actually part of the Bokujo Monogatari (Read: Harvest Moon) series in Japan but, due to licensing issues and other technical jibba-jabba, the name had to be changed stateside.
I had the opportunity to go hands-on with Story of Seasons at E3 2014, as well as chat with series producer Yoshifumi Hashimoto. Hashimoto-san stated that the spirit of Harvest Moon is very much alive in Story of Seasons, but his latest entry should be seen as a new beginning for the beloved series.
That's evident in the latest trailer, which begins by showing off the game's impressive character customization features. After choosing to be a boy or girl, you can fine-tune every aspect of your character, making them look as much like you, or unlike you, as you like.
Oak Tree Town is also on display in the new trailer, which is where players will spend a lot of their time getting to know the other characters, buying goods, forging relationships and more.
The new customizable crop layouts are also up for your viewing pleasure, as well as some of the more streamlined farming mechanics that will let you spend more time digging into the other aspects of the game. As revealed at E3, there's lots of new activities to take part in once Story of Seasons launches, including new online cooperative play and, yes, they've added a jump button. Can I get an amen?
Story of Seasons will be published by XSEED Games Stateside and is launching exclusively for the 3DS this March.
"After creating a customized character, players can live out a new life by cultivating their favorite fruits and vegetables while expanding and filling their farm with their choice of animals," reads a press release from the publisher. "Fans of past games in the series will love the many new additions on display here, including an enhanced variety of seeds, pets and other ways to make their farms truly their own."
Get your pitchforks ready, folks. It's almost time to head back to the farm.
Your Daily Blend of Entertainment News
Staff Writer for CinemaBlend.