Hearthstone Curse Of Naxxramas Release Date Slated For July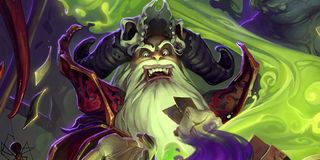 Hearthstone: Heroes of Warcraft's first single-player expansion pack Curse of Naxxramas will be coming next month, Blizzard revealed today. They also said when they're going to be revealing the price of the content.
"Just wanted to give everyone a head's up that we are currently targeting to release Curse of Naxxramas during the month of July," said community manager Aratil on the Battle.net forums. "Unfortunately, we still have a lot of implementing and bug fixing to get through, so please stay tuned!"
"With that said, we are also targeting to reveal pricing details regarding Curse of Naxxramas next week on July 1st, so please keep an eye out for that."
Curse of Naxxramas is a five-wing dungeon inspired by a World of Warcraft raid. Each wing is filled with new A.I. enemies with unique abilities. When Blizzard first announced Naxxramas, they said that the expansion would be released one wing at a time over five weeks. The first part of the adventure, the Arachnid Quarter, will be free to download.
The other four wings (Construct Quarter, Plague Quarter, Undead Quarter and Frostwyrm Lair) will cost you, though. Blizzard said that players will be able to purchase them with each real money or in-game gold. The more sensible Hearthstone players have been hoarding gold in preparation. I am not one of those players.
Depending on the price, the expansion could be a better use of your money than booster packs. Completing the battles in Naxxramas will earn you new cards, some of which are Legendaries. Each class is getting a new card as well through a challenge mode. These cards could give you a serious competitive advantage in the weeks after Naxxramas' release because not many other players will have them or know how to counter them.
Blizzard is using these new cards to change the Hearthstone meta. Community manager Zeriyah says that they still have no plans to make meaningful changes to existing cards:
Earlier this week a slew of screenshots from Curse of Naxxramas were leaked. These screenshots gave us some insight into the new Legendaries and boss enemies we'll face in the expansion. The images may be from an earlier version of Naxxramas but the final product should still be fairly similar.
Staff Writer at CinemaBlend.
Your Daily Blend of Entertainment News
Thank you for signing up to CinemaBlend. You will receive a verification email shortly.
There was a problem. Please refresh the page and try again.