Hearthstone iPad Gameplay Videos, Screenshots Released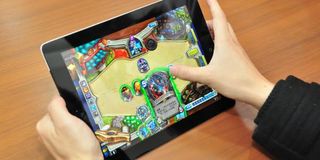 New screenshots and gameplay footage from the iPad version of Hearthstone: Heroes of Warcraft were released today. The new assets and details on the collectible card game come from a Blizzard press event in China.
During the press event, Blizzard (via 2P) said that the game will run on iPad 2 and later. They also reiterated that the iPad edition will support cross-platform play with the PC and Mac versions. No release date was provided, unfortunately.
The gameplay video, first published by Chinese gaming site 17173, shows that the iPad version looks virtually identical to its PC and Mac counterparts. Furthermore, the game appears to be well-suited to touchscreen controls. All you really need to in a match is click and drag cards. There's no precision movement or timing required. The mobile versions of Hearthstone should be much less awkward than mobile versions of say, driving games or shooters.
While Blizzard didn't announce a release window for the game, it seems like the iPad version's very far along. Blizzard's been testing the game on that platform internally for months. It seems likely that Hearthstone could arrive on the iPad sometime this year.
In Hearthstone, players collect cards inspired by abilities, items and characters from Warcraft. They must choose one of nine hero characters, each with access to a different class ability and different sets of cards. The game supports head-to-head matches against human and A.I. opponents. Gold earned through matches can be spent on booster packs as well as access to the Arena mode, which pits players with randomized decks against each other.
The game is free-to-play with optional cash purchases. Players can spend real-world money on card packs as well as Arena passes. During the event, Blizzard said that the iPad prices will be the same as the PC/Mac prices.
Hearthstone officially launched on PC and Mac on Tuesday following a long public beta. On launch day, Blizzard said that the iPad version is "coming soon." They also stated that the Windows tablet, Android, and iPhone versions are still in development as well, though they're probably further away from release.
Image 1 of 6