Hellgate: London Shuts Down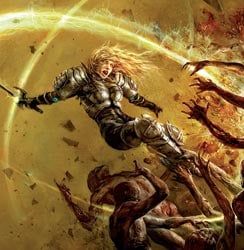 Londoners, your city is finally safe from demonic invasion. Namco shut down American and European servers of Hellgate: London on Saturday night, ending the action RPG's fifteen-month run.
The shutdown was announced back in October and has been subscription-free since then. The game is, as far as we can tell, still alive in Asia. HanbitSoft, which owns the Asian publishing rights, announced an expansion to the game in November but Europe and North America obviously won't be getting that.
Hellgate could be played either single-player or multiplayer so it's likely you'll still find the occasional dusty copy in your local game store. The game first launched on October 31st, 2007 in North America. Tabula Rasa, the MMORPG which launched two days later, is set to be shut down at the end of February 2008.
Staff Writer at CinemaBlend.
Your Daily Blend of Entertainment News
Thank you for signing up to CinemaBlend. You will receive a verification email shortly.
There was a problem. Please refresh the page and try again.