Here's What's Included In The Minecraft Favorites Pack Coming To Xbox One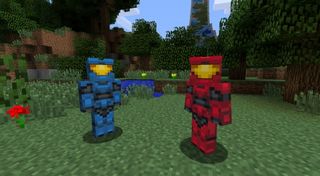 Microsoft has announced that the Minecraft: Xbox One Edition Favorites Pack will be landing on retail shelves starting June 7 for gamers living in the land down under, and it will be available on June 21 for everyone else in the rest of the world.
Microsoft sent out a press release indicating that the Favorites Pack, including some of the best selling skins and textures will launch in a retail package for $29.99. The Favorites Pack is currently available right now digitally, and has been available digitally since last fall in 2015, but Microsoft wanted to make a physical package available for those who have not jumped onto the digital bandwagon yet. Those living in New Zealand and Australia will be able to get their hands on the Minecraft pack first, starting June 7th just ahead of the E3 festivities. Following that, everyone in the rest of the world will be able to get their hands on the pack starting June 21.
Here's what's included in the Favorites Pack:
• Battle & Beasts Skin Pack
• Battle & Beasts 2 Skin Pack
• Natural Texture Pack
• City Texture Pack
• Fantasy Texture Pack
• Festive Mash-up
• Halo Mash-up
You'll get all of those skin and texture packs in addition to the base Minecraft game. There's more than 120 character skins bundled up within that pack, along with the five different texture packs, so that it's possible to create brand new worlds with new UI and in-game music. Each of the packs have been very popular, so Microsoft decided to put them all together in a single bundle for both retail and digital purchase.
Microsoft is also hoping that the Xbox 360 crowd will make the leap over from Minecraft on the 360 to Minecraft on the Xbox One. They try to sweeten the deal by letting gamers know that buying the new Favorites Pack bundle will still allow them to access and import their old maps from the Xbox 360 onto the Xbox One.
Ultimately the big challenge is trying to convince parents to invest the $350 to buy an Xbox One so their kid can import Minecraft from the Xbox 360.
Right now Microsoft is in that difficult position right now where they're being spanked across the market by Sony with the PS4 and they really need to leverage their software brands to help move hardware. Given that they purchased Mojang, the creators of Minecraft, it gives them a prime opportunity to start using the brand to help give the Xbox One a little bit of marketing reach with potentially exclusive items, deals, discounts and content. Bringing the Favorites Pack to retail isn't a bad way of leveraging the Minecraft brand, but I would have expected more exclusive Xbox content by now. The Minecraft property is hot and they should most definitely cash in while the audience is still eating it all up.
As mentioned on the Xbox news wire (opens in new tab), you can look for the Favorites Pack bundle that includes the texture packs, skin packs and MinecraftMinecraft: Xbox One Edition to go live starting June 7 in the Oceania territories followed by a worldwide release on June 24. The retail pack will carry a $29.99 price tag.
Your Daily Blend of Entertainment News
Staff Writer at CinemaBlend.
Your Daily Blend of Entertainment News
Thank you for signing up to CinemaBlend. You will receive a verification email shortly.
There was a problem. Please refresh the page and try again.