Minecraft: Story Mode Will Be Available On Wii U This Week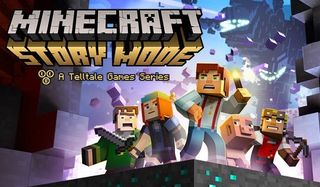 Gamers plugging away on the Wii U have something to look forward to this week as Nintendo and Telltale Games announce the impending arrival of Minecraft: Story Mode.
Set to launch on January 21, Wii U fans will be able to pick up the first episode of Minecraft: Story Mode for $4.99. While the January 21 launch only includes "The Order of the Stone," the remaining four chapters will also launch somewhere down the line. While we don't have a release date for those other chapters yet, you can still grab a full season pass for the game at $19.99. Given how much folks seem to be enjoying the game on other platforms, that's probably a pretty safe investment assuming you enjoy, you know, fun things.
Nintendo made the announcement official this morning on its US website, as well as mentioning that off-TV functionality will be available thanks to the Wii U gamepad. That functionality includes game mirroring, so you can just play the whole thing from the gamepad, as well as touchscreen controls for when you're playing on the TV.
Now that the Wii U has both Minecraft and Minecraft: Story Mode, the property has finally completed its global takeover off all things gaming. And here's hoping the episodic game does well, too, as that might mean future launches of additional Telltale games. They're older titles at this point, but having The Walking Dead, The Wolf Among Us and the like on the Wii U would be a huge deal for folks who are only playing on that one particular console.
And if the comments from Steve Singer, VP of Publisher and Developer Relations at Nintendo America serves as any indicator, that isn't exactly outside the realm of possibility at this point, either.
Telltale's own CEO and co-founder, Kevin Bruner, goes on to strengthen the idea that this might just be the beginning of a beautiful new relationship, saying that the team is tremendously excited about bringing a game to the Wii U for the first time.
As for what you'll get out of Minecraft: Story Mode outside of an all-star voice cast, players will be able to take on the role of Jesse, a male or female avatar who finds themselves pulled into a perilous adventure that spans the continents of Overworld and eventually dives into the Nether. Also, you have a pet pig.
Your Daily Blend of Entertainment News
Staff Writer for CinemaBlend.