How Mario Kart Players Are Paying Tribute To Satoru Iwata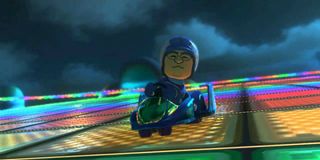 Though the passing of Nintendo president and CEO Satoru Iwata left a hole in the hearts of many of us working in the video game industry, his legacy will live on in the games he worked on and those that he touched.
In honor of the late Iwata's passing, fans are coming together to find various ways to pay tribute to the visionary industry personality, and one of them is the #RaceForIwata campaign, via Siliconera. To participate in the campaign, all you need to do is scan the QR code in the following image to import Iwata's Mii into your own Mii collection, and then go online to join a race as him in Mario Kart 8. It's very simple, and a sweet way to show your support for a man who put so much of himself into both Nintendo and the entire video game community.
(Photo Credit: Siliconera)
That's not the only way fans are showing support, however. Several have taken to Twitter to post illustrations, cartoons, and other pieces of artwork depicting Mr. Iwata, the games he was involved in, and familiar characters coming together to mourn his loss. Characters like Mario, Ness, Kirby, and other familiar faces are clearly troubled by his passing, and while they're obviously fictional characters, they're all very touching tributes. It's a lot similar to the enormous "get well" card fashioned by 4chan visitors last year when Iwata was under the weather and advised not to make travel plans for the previous E3 show.
It's only been a few days since he passed, but you can certainly feel a lot of love swirling around on the internet right now, especially from a community of players and personalities who may not always agree. The artwork ranges from silly and touching to downright emotional, so you may want to have some tissues ready.
Mr. Iwata consoles a sad Pikachu and Kirby, just like fans thought he might do in real life with his famous quote, "Please understand."
Familiar Nintendo characters come together to offer Mr. Iwata various power-ups and extra lives.
Mr. Iwata seen with some of his creations here, a happy scene to be enjoyed by all.
This comic strip finds Mr. Iwata frolicking in the clouds with other Nintendo characters with balloons, a la Balloon Fight. Thank you, Mr. Iwata. You will be sorely missed.
Your Daily Blend of Entertainment News