How To Play Half-Life On A Smartwatch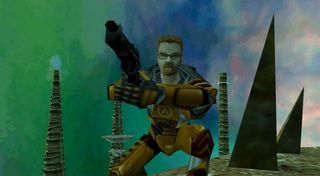 There's a neat new way to play one of the classic shooters on a smartwatch. Yes, you read that right. You can play the original Half-Life on a smartwatch using an app called SDLash3D. The results? A somewhat clunky and cumbersome rendition of the popular PC game on a watch.
VG247 grabbed the news from tech blogger David Bennett, as he walks gamers through a quick tutorial on booting up and running Valve's classic title on a smart device the size of a wristwatch.
As mentioned on his blog, gamers can run Half-Life using the SDLash3D app from the Xash3D cross-platform organization – a group dedicated to making porting tools available for cross-platform apps. In this case, it's for adding the necessary runtime libraries to support the GoldSource Engine, and grant users control of the game through touchscreen capabilities.
As showcased in the video above, the touchscreen mechanisms for Half-Life aren't all that great. You can see how the responses aren't entirely reliable and it sometimes requires multiple swipes for the input to be recognized.
Bennett mentions that it's kind of tough to play Valve's popular title on a smartwatch due to the size and the inability to properly react with the watch's finicky controls.
It's more of a novelty to see Valve's first-person shooter from 1998 running on the watch than it is a necessity to actually have it running right proper. I imagine most people with a smartwatch also have a smartphone, and it would likely to be a lot more beneficial to just play the games on the phone than the watch. Unless, of course, you only have the smartwatch and you're stuck in a meeting, or on a bus, or a taxi, or a subway and you need to kill a lot of time.
I think that this showcases just how creative some tinkerers can get with porting over popular games to new devices. I imagine this also lays the groundwork for some really neat cross-platform capabilities, including the ability to use a smartwatch to interact and play games on PC and console.
Ubisoft dabbled in this a little bit with the cross-platform features in Watch Dogs that worked across phone apps and the main game itself on home consoles and PC.
It would be pretty cool playing an asymmetrical multiplayer game where you could either speak into the watch or use certain controls to manipulate the playing field while players on the main consoles reacted to those changes. EA and DICE tried something similar with the Commander Mode in Battlefield 4, enabling users to take advantage of smart devices to direct the action in the game.
If you like what you've seen in the video above and you want to try this out for yourself, you'll need to enable debugging on your smart device, download the SDLash3D app along with the Xash and Valve folder, and run Half-Life. You can check out a more detailed tutorial over on Dave Bennett's website.
Your Daily Blend of Entertainment News
Staff Writer at CinemaBlend.