How To Run Windows 10 On Your Mac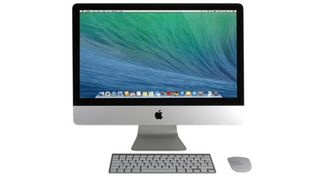 Mac users out there hearing about all the rage surrounding Windows 10 will likely want to get their hands on it but may not know how to get Microsoft's new OS to run properly on a Mac. Well, Apple did a nice guy thing and decided to offer up a step-by-step tutorial on walking Mac users through the process of installing and using Windows 10.
The information was recently posted over on the Apple support forums (opens in new tab), where a list of compatible Mac units were made and the instructions for installing Windows 10 were laid out for the public to consume.
You will need an iMac made after 2012, or a MacBook Air that was made after mid-2012, a Mac Mini that was made after later 2012 or a Mac Book Pro that was made after mid or late 2012.
If you have a unit purchased within the last three years then you're eligible for installing a 64-bit version of Windows 10 on your Mac.
The most fundamental component for getting all of this to work is ensuring that you have Boot Camp installed. The Boot Camp is automatically installed for most units made after the 2012 line of Macs and you can access the Boot Camp menu holding down the option key during the boot manager.
Once inside the menu you can partition the hard drive or setup using a Windows 10 USB drive or installation disc to install the operating system on a Mac.
Boot Camp allows Mac users to install Windows 10 from a number of different devices. If you don't have a DVD drive installed on your system – and it appears to be a growing trend for some computers to be sold without them, especially the small form factor ones – you can still use the USB 3, USB-C, Thunderbolt and even the built-in SD and SDXC card slots.
Some people might be wondering what the benefit is of running Windows 10 on a Mac. Well, you might just enjoy having a Windows system on your Mac or you might own an Xbox One and want to take advantage of the new Xbox app streaming features and functionality.
Microsoft has made it viable for computer users to play and stream their games from the Xbox One to the PC. With Windows 10 installed on a Mac it gives Mac users the opportunity to install the Xbox app and take their Xbox library for a spin on their system.
This might be useful for people who want to play their console games while the television is being occupied in another room, or if you want an easy way to record and stream your console experience without having to pay extra for a HD capture device. You can just pop open Bandicam or Fraps and start recording to console gaming experience as it's being streamed to your PC or Mac. A great alternative for YouTubers and Twitch streamers, no doubt.
Additionally, with the Xbox One's backwards compatibility with Xbox 360 games being made available this holiday season it also opens up Mac users to play the back catalog of Microsoft titles through the Mac by using the Windows 10 streaming.
If you want to learn more about installing Windows 10 on your Mac, you can do so by visiting the official Apple support page (opens in new tab) for installing the operating system.
Staff Writer at CinemaBlend.
Your Daily Blend of Entertainment News
Thank you for signing up to CinemaBlend. You will receive a verification email shortly.
There was a problem. Please refresh the page and try again.