IDV's SpeedTree Middleware Now Available For PlayStation 4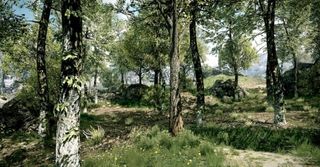 One of the things that makes game design so hard is consolidating ideas and then finding ways to bring them to life within a reasonable time frame. If someone has some crazy big ideas for how a game will look and how the environments will be and how the game will play, you can easily run into some major issues with trying to bring all of this life from the ground up. Thankfully, there are middleware suites out there that can do a lot of that consolidating for you and in the case of IDV, they have SpeedTree, which makes foliage, tree and environment design a heck of a lot easier than trying to manually design all that stuff on your own.
IDV announced today that they will be showcasing their SpeedTree middleware toolset at the Game Developer's Conference in a show of support for Sony's recently announced PlayStation 4. This means that developers – no matter what game engine they're using – can utilize IDV's tech to bring physics-based foliage to life with ease and convenience, just like they did during this current generation of gaming.
Chris King, CEO of SpeedTree developer, IDV commented in the press release about the latest iteration of the engine, saying...
I actually think it's a good thing to have healthy competition in the middleware sector because it's the market that determines a lot of the overhead costs for the development of a game. The more efficient the middleware, the cheaper it is to design the main game.
Some of the features of SpeedTree includes varied vegetation and foliage for a wide range of environments and aesthetics, full integration with Epic's Integrated Partnership Program for the Unreal Engine, meaning that cross-compatibility gives you easy access to transfering over projects from one design environment to the other, and physics-based tree, leaf and foliage effects means that you don't have to build any code from the ground up to get your trees looking and moving as realistic as possible for your project.
You can check out the list of new features for SpeedTree below or you can visit the Official Website to learn more.
* Support of Sony Computer Entertainment's recently-announced PlayStation 4 console and other new platforms
* Availability of additional pricing configurations, including a tools-only licensing option for customers who don't require the SpeedTree SDK
* A new "simplify" feature that quickly and easily creates low polygon models from high definition, cinema-quality models
* A new "mesh wizard" that aids the process of importing custom meshes for use as leaves, obstacles and more
* Additional workflow enhancements such as improved exporters and import scripts, computation of ambient occlusion upon "save", double-click zoom and more
Staff Writer at CinemaBlend.
Your Daily Blend of Entertainment News
Thank you for signing up to CinemaBlend. You will receive a verification email shortly.
There was a problem. Please refresh the page and try again.