Jamie Lee Curtis Cosplayed As A Street Fighter Character And It Was Awesome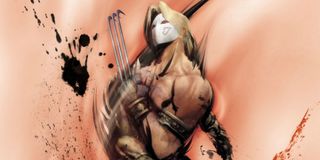 Jamie Lee Curtis is known the world over as being one of the original scream queens, but you probably didn't know she occasionally dresses up as familiar Street Fighter characters.
The actress made her way to Las Vegas (via Kotaku) to attend the annual EVO 2015 fighting game tournament as part of a graduation trip for her son Thomas, though she made sure to stay undercover while there. Donning a very svelte (and surprisingly accurate) Vega cosplay costume, she attended the tournament alongside husband Christopher Guest as Tekken's Doctor Geppetto Bosconovitch, and her older sister Kelly's Mokoto.
Curtis' son Thomas opted for a Dee Jay costume that may not have looked as spot-on as his mother's ensemble, but it was an interesting look anyway, showcasing his love of gaming and his excitement for being able to participate in the tournament. This stunt comes at a great time as well considering we're super close to the beta release of Street Fighter V.
Curtis later tweeted about the event, exposing herself as Vega and the rest of her family, blowing the lid off the cover she took up to keep the spotlight on Thomas.
She later tweeted this cheeky tattoo reading "Good Vibes," noting that the tattoo itself "sums up the trip to Vegas" and thanked the gaming community for being welcoming to her.
Lastly, she posted this up-close-and-personal view of Vega's claws.
Street Fighter V is coming soon for PlayStation 4 and PC this spring and will feature a slew of brand new characters. Are you ready to get to brawling with your favorite fighters?
Your Daily Blend of Entertainment News