Tekken 7 Teaser Trailer Revealed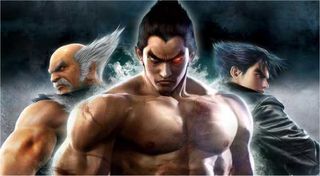 Earlier yesterday morning it was leaked that Bandai Namco would be announcing Tekken 7 for home consoles. It was also revealed that the game would be utilizing the Unreal Engine 4. Well, it turns out that the leak was true and the game did make an appearance on the gaming news circuits later throughout the day.
So in case you missed it earlier: Tekken 7 was leaked to the press. AOL managed to get their hands on some footage of the news from an IGN video that was posted earlier than it was supposed to be. The video revealed that Tekken 7 would be announced by Bandai Namco Games producer Katsuhiro Harada, during the live-streams of the annual Evo 2014 Championship Series finals.
Sure enough, later in the day – just after the Capcom vs Marvel 3 finals wrapped up – Bandai Namco Games producer Katsuhiro Harada walked up on stage along with one of Bandai Namco's lead game designers, and they spoke about revealing Tekken 7. Funnily enough, Harada joked that Yoshinori Ono – the famed producer at Capcom – was probably the one who leaked Tekken 7 to the press. Later on at the event, Ono himself revealed that he, too, had something to share "soon". He also stated that he wasn't the one who leaked Tekken 7 to the press.
One of the more interesting turn of events, however, is that Harada actually has more than just one game in the works, and that Tekken 7 is one of three projects he's currently working on. Many suspect that the second project is Tekken x Street Fighter, the Namco rendition of the crossover series that has only seen Capcom's version released to the public. The other game – the third game – is a complete mystery and hopefully it turns out to be a real surprise.
Taka Kawasaki, Studio Head at Epic Games Japan actually had some words to share about the game given that it's running on Epic's Unreal Engine 4. According to Kawasaki...
Well it should be interesting to see how it turns out. Guilty Gear Xrd -Sign- is also running on the Unreal Engine and it looks absolutely stunning. So I have no doubts that Tekken will look gorgeous.
According to Harada, they'll reveal more details about the game at this yea'rs San Diego Comic-Con on July 25th. We can expect more details about the game at that time. In the meantime, we'll just have to settle for the teaser trailer above.
Your Daily Blend of Entertainment News
Staff Writer at CinemaBlend.