Kickstarter RPG Pillars Of Eternity Delayed To 2015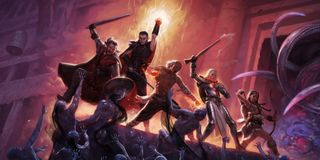 South Park: The Stick of Truth and Fallout: New Vegas developer Obsidian Entertainment's new RPG Pillars of Eternity won't be out this fall. Obsidian and publisher Paradox Interactive revealed today that the game's official launch has been pushed to early 2015.
Gamers who back Pillars' initial Kickstarter campaign received the beta version in August. The beta build features a village from the full game along with a sample of mid-level quests. After collecting feedback from testers for the past month-and-a-half, Obsidian realized they would need more time to incorporate this advice into the full version of the game.
"Since the very beginning of this project we promised our fans and ourselves that we would release this game only when we knew it would be absolutely ready for the best experience possible," said Obsidian CEO Feargus Urquhart in today's announcement. "We're very close to that point, but not quite there yet. The feedback we have received through our playtest process has been invaluable to us. We are coming into the home stretch but are pushing the release out just a bit to make sure we honor that promise we made originally.
"Thanks for your patience and support, it will be worth the wait."
Pillars of Eternity, formerly known as Project Eternity, is a tactical RPG inspired by old-school CRPG's like Baldur's Gate and Icewind Dale. Players command a party of six characters in an adventure through an original fantasy world. The development team includes Icewind Dale designer Josh Sawyer, Fallout producer Tim Cain and Planescape: Torment writer Chris Avellone.
The Kickstarter campaign for Eternity in 2012 was a huge success, raising over $4 million for the game's development. It was the biggest Kickstarter campaign for a video game to date, though it's since been surpassed by Tides of Numenera, another old-school CRPG.
Obsidian initially expected to release Pillars of Eternity in April 2014. Kickstarter backers, some of whom spent over $100 funding the game, are obviously a bit restless. However, Paradox promises that the delay will result in a better game.
"Rest assured, no one is more anxious for the completion and release of this game than we are. However, we are excited to get the extra time to incorporate the feedback and add additional polish."
I do hope that the backers' patience ends up being rewarded. Not just because I want Pillars to be good, but also because any high-profile failures on Kickstarter will make it that much harder for some other developer to fund their passion project.
Staff Writer at CinemaBlend.
Your Daily Blend of Entertainment News
Thank you for signing up to CinemaBlend. You will receive a verification email shortly.
There was a problem. Please refresh the page and try again.