Kingdom Hearts HD 2.8's Weird Name Explained By Director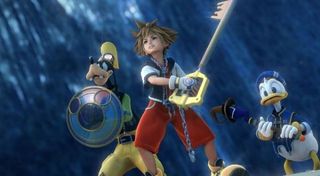 Kingdom Hearts HD 2.8: Final Chapter Prologue has one of the most ridiculous names in all of media history. It's not quite Kindgom Hearts HD 3 and it's obviously too much to be half a sequel plus one at 2.6 since there was already a 2.5. So why the 2.8? Well, director Tetsuya Nomura explains it.
Kotaku picked up the news from an interview Nomura had with Famitsu where he explains that the games in the Kingdom Hearts series that do not star main character Sora were labeled as "zero" games. So anything in the Kingdom Hearts series without Sora was Kingdom Hearts 0.x. So Kingdom Heats X and Kingdom Hearts Unchained X represent zero.
There were also two Kingdom Hearts: Birth By Sleep games. So that would be two Kingdom Hearts games labeled in the "zero" category. So what does that make them? 0.2.
So what about the 2.8 in Kingdom Hearts HD 2.8? Well, according to Nomura this latest iteration of the series of "worthy" of being a decimal successor to Kingdom Hearts HD 2.5. So using that logic, this would technically make Kingdom Hearts HD 2.6. In a weird sort of way, that does make sense.
But what about that 0.2 from earlier because of the Birth By Sleep games? Well, Nomura didn't forget about them and decided to add them to Kingdom Hearts HD 2.6, turning it into Kingdom Hearts HD 2.8.
But what about that ridiculous Final Chapter Prologue at the end of the title? Well, it kind of explains itself. This is the final chapter in the prologue series leading up to Kingdom Hearts 3. So there won't be anymore in-between games to flesh out the story of Sora's adventure.
The final stop after this train is to Kingdom Hearts 3... unless there's an Epilogue Final Chapter Prologue to make it Kingdom Hearts HD 2.9. In which case, I wouldn't actually doubt that Square Enix would attempt to do something like that because... why not?
For now fans should be excited that there's a new Kingdom Hearts title on the way to help stave off the boredom and anxiety that comes with waiting for the highly anticipated Kingdom Hearts 3.
Square Enix has been keeping a mostly tight lid on what will be the end of a saga. Of course, it won't be the end of the Kingdom Hearts series, just the end of the story that's been told over the past decade.
There is no release date set in stone for Kingdom Hearts 3 but it will arrive after Kingdom hearts HD 2.8 releases for the PlayStation 4 in 2016. The game will contain faster and improved combat, better graphics and two remastered editions of Kingdom Hearts 0.2 Birth By Sleep – A Fragmentary Passage and Kingdom Hearts Unchained X. The title will help bridge the story gap leading up to Sora's big finale with Xehanort. Unfortunately, no matter how much they explain away what's going on I'll never be able to get over how ridiculous some of those titles are.
Staff Writer at CinemaBlend.
Your Daily Blend of Entertainment News
Thank you for signing up to CinemaBlend. You will receive a verification email shortly.
There was a problem. Please refresh the page and try again.