Kingdoms Of Amalur: Reckoning Audio Director Apologizes For Donkey Kong Rap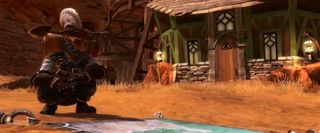 A new behind-the-scenes video documentary was released for EA, Big Huge Games and 38 Studios' upcoming action-RPG, Kingdoms of Amalur: Reckoning. In it, the audio director, known for titles such as Donkey Kong 64, apologizes for the rap song used in the game's intro.
In addition to apologizing for the intro piece that I thought was rather hilarious at the time, Grant Kirkhope goes on to talk more about Reckoning and being in charge of the audio direction for the game. It's a massive project no doubt and the game really does look to be coming along quite nicely. You can see brand new footage of the game as well as learn more about the audio design in the near seven minute video below.
Whenever I see the combat in Kingdoms of Amalur it always makes me question what happened to Star Wars: The Old Republic. There's a huge night and day difference between both games when it comes to the combat mechanics but maybe BioWare will take cues from 38 Studios for a future patch to fix up the fighting system in SW: TOR...to make it a little less mundane looking.
Anyway, Kingdoms of Amalur: Reckoning is due out February 7th for the Xbox 360, PS3 and PC. The game is looking really good so far and again, I can't praise that combat system enough. You can pre-order the game right now for special bonuses or visit the Official Website to learn more about the game.
Staff Writer at CinemaBlend.
Your Daily Blend of Entertainment News
Thank you for signing up to CinemaBlend. You will receive a verification email shortly.
There was a problem. Please refresh the page and try again.