L.A. Noire Complete Edition On The Way?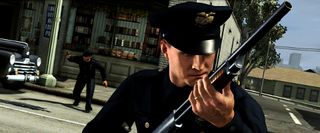 This fall Rockstar Games will be releasing a Game of the Year Edition for Red Dead Redemption. The word is that they're planning to re-release their crime thriller L.A. Noire soon as well.
Eurogamer Czech reports that Rockstar is preparing a Complete Edition of Noire for a November release. This new edition of the game will ship with all of the downloadable content. No other details, such as price, were mentioned. Price might not have been very helpful anyway, as I'm not really sure what the koruna: dollar conversion rate is these days.
L.A. Noire is set in post-World War II Los Angeles. The player takes on the role of Cole Phelps, a soldier-turned-LAPD detective. He'll solve a number of violent crimes throughout the city. Gameplay is a mixture of crime scene investigation, witness/suspect interviews, chases, and gunfights.
Since Noire's release this spring, Rockstar has released several pieces of downloadable content. The DLC includes four new cases, a Badge Pursuit Challenge, and numerous outfits. You can get access to all of it in one fell swoop by purchasing the Rockstar Pass for $12
Rockstar has yet to officially announce a re-release of Noire. Also, even if it does arrive over in Europe, that's also no guarantee that it'll hit the States.
The PC version of Noire is supposed to be out this fall. I'm wondering whether "Complete Edition" is just the name they're attaching to that version, and there's no actual re-release planned. We shall see, though.
Your Daily Blend of Entertainment News
Staff Writer at CinemaBlend.