League Of Legends 2015 World Championship Details Announced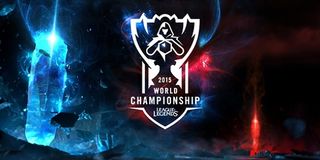 Gather your teammates and get ready to battle, as Riot Games announces the official dates, locations and details for the League of Legends 2015 World Championship. Spoiler alert: If you live in the US, you're going to need to cash in some air miles.
Announced through the League of Legends official website, this year's championship series will hit several European cities, including Paris, London, Brussels and Berlin. Don't fret too much, though, as the big event doesn't kick off until this fall. That leaves you with a few months to sell a few organs and gallons of plasma in order to afford the travel expenses. Here's the quick rundown:
Group stages will be hosed at Le Dock Pullman in Paris from Oct. 1-4 and Oct. 8-11. The competition will then move on to the quarterfinals, hosted out of SSE Arena Wembley in London from Oct. 15-18. The semifinals will move to the Brussels Expo in, you guessed it, Brussels, from Oct. 24-25. That all leads to the finals, which will be held on Oct. 31 in the Mercedes-Benz Arena in Berlin. According to the announcement, Halloween costumes are optional for that final showdown.
In case you've been living under a rock these past five years or simply keep anything related to esports off of your radar, League of Legends is one of the leading Multiplayer Online Battle Arena (MOBA) games, where two groups of players square off to vie for control of a map. The deepest part of the strategy comes from team makeup. League of Legends is home to dozens of "champions," characters with various types of strengths and weaknesses geared toward helping out their teammates and earning a win. Finding the right mix of players who are skilled with the right mix of characters is half of the challenge. Teams that manage to pull that feat off well often put together the most entertaining runs, mixing and matching their abilities to utterly dominate the competition.
While players are free to enjoy the game any way they see fit, competitive play has become huge in recent years, leading to seasons of events much like you'd see from any typical, non game-based sport.
According to the recent news post, the season finale took quite a bit of work to put together, but fans should be excited by the results.
"Choosing locations for the 2015 World Championship was a complex and time-intensive process," reads the announcement from Riot. "We began our search in earnest over a year ago, looking for venues and cities that gave us enough flexibility to customize live esports experiences for fans in the seats, as well as creating entertaining backdrops for players watching along at home."
Well, that should serve as a nice reminder: Even if you can't make the trip to see the League of Legends 2015 finals live, you'll have plenty of opportunities to take in the action from the comfort of your own home through various streaming services.
Your Daily Blend of Entertainment News
Staff Writer for CinemaBlend.