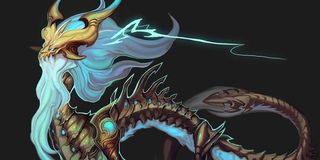 Riot Games confirmed this weekend that they're creating a new champion called Ao Shin. Ao Shin is a dragon who is said to push the technical and creative limitations of League of Legends.
Ao Shin is described as a storm dragon who acts as a guardian for the natural world. Legend has it that Ao Shin will make his return when the island nation of Ionia is in peril. His appearance is based on Eastern mythology judging from his long, serpent-like body.
"Let's start with the inspiration for his name: Ao is the family name of the mythological dragon kings, who rule water and weather," Riot Games said on the LoL forums. "This tells us right away that this is a powerful, elegant being, above the concerns and rules of men. Shincan mean many things, one of which is prosperity. It also means a rising storm. Ao Shin embodies this elemental duality, capable of raining good fortune on his allies and, in the very next breath, bringing stormy, thunderous ruin upon his foes."
Riot notes that the player community has long requested a dragon champion. The development team's taking their time with developing Ao Shin to make sure that he's done properly. Because he's a dragon, his anatomy and movement is very different from the mostly bipedal humanoid cast of the game.
"It's too early to go into much detail, but we're really excited about the ways this champion will move across the battlefield."
The concept art from Riot shows Ao Shin throwing around lightning and wind. The art also includes a picture of an electrified tornado. Does Ao Shin become that whirlwind and rampage across the battlefield? It's sadly too early for Riot to confirm either way because they're still working out all the details. No date has been set for his release yet.
"Ao Shin isn't the next champion scheduled to come out, so he's still a ways off and many things are still subject to change. But we wanted to share our inspiration with you and give you a look at the early thought processes that go into champ design. Hopefully you're as excited about his potential as we are to keep working on him!"
Riot's been on a bit of a storm kick lately. Last week they released Forecast Janna, a weatherman outfit for the long-time Champion.
Image 1 of 2
Your Daily Blend of Entertainment News
Staff Writer at CinemaBlend.