League Of Legends Dominion Mode Now Live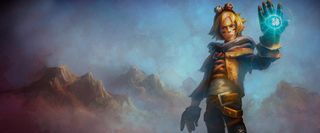 Riot Games has released Dominion, a new game mode for their MOBA title League of Legends. All players in North America and Europe can play the new mode starting today.
"With Dominion, we wanted to answer our players' desire for innovation with a fast-paced, complementary experience to classic League of Legends," said Marc Merrill, Riot Games prez and League executive producer. "Now that it's available to all League of Legends players, it's going to be amazing to watch them develop strategies and dominate on the Crystal Scar!"
Dominion takes place on new map called Crystal Scar. Two teams battle to control five control points. Each control point spawns a turret as well as minions to assist you in battle. Riot intends for Dominion to be a more fast-paced battle than normal play, with matches averaging 20 minutes. The mode is structured to allow last-minute comebacks and a lot of one-on-one fights, as well.
Like League of Legends itself, Dominion is free to download and play. If you'd like to try it out, head to LeagueofLegends.com.
Your Daily Blend of Entertainment News
Staff Writer at CinemaBlend.