League Of Legends Season 4 Starts Tomorrow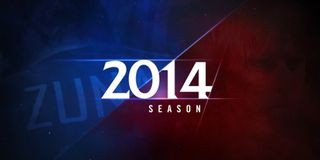 Season 4 of the League Championship Series will begin tomorrow. Riot Games will kick off several months of competitive League of Legends play with a Super Week in North America and Europe.
"The off-season, perhaps one of the most exciting and active off-seasons in the history of esports, has finally drawn to a close," Riot said this weekend. "Rosters have been solidified. Professionals have picked up their lives and relocated across the seas. Two continents have settled the score in a narrowly won (or lost) head-to-head grudge match. Most importantly, teams have either secured a spot in the LCS or gone home to ponder their futures."
The LCS 2014 season will launch in Cologne, Germany on January 14th. Top European squads like Alliance, SK Gaming and Fnatic will play a total of 16 matches over the course of three days.
Later in the week, the North American competition will begin in Manhattan Beach, California at Riot's studio. The participating teams include Curse, Evil Genius and Dignitas. The North American competition will run from January 17th to January 19th.
This Super Week is the official start of the Spring Split. Each team in the Spring Split will play each other four times in best-of-one matches. After these 11 weeks, the six teams with the best records will compete in the playoffs. Tiebreakers will be decided by head-to-head record or, failing that, special tiebreaker matches..
League of Legends has become a hugely popular eSport in recent years. Season 2's World Championship was watched by 8.2 million players. Last season, viewerships capped out at 32 million. We'll see if Riot's game can sustain, or exceed that viewership this year.
To prepare for Season 4, Riot rolled out numerous gameplay changes. Support and jungle characters now have better income and item selections. The developers are also hoping to reduce "snowballing" in matches so that teams have a chance at a comeback even if they stumble early. The gold reward for an early kill has been reduced along with the respawn timer. You can find a full run-down on the preseason changes here.
"Ultimately for this new season, we're on a quest to refine League of Legends while also creating a deeper, clearer and more satisfying player experience," Riot said.
If you want to watch the LCS matches in person, you can buy tickets here. The January 17th and 18th matches in North America are the only events sold out so far. Riot will also stream the matches through their website.
Your Daily Blend of Entertainment News
Staff Writer at CinemaBlend.
Your Daily Blend of Entertainment News
Thank you for signing up to CinemaBlend. You will receive a verification email shortly.
There was a problem. Please refresh the page and try again.