Luigi's Mansion: Dark Moon Kicks Off The Year of Luigi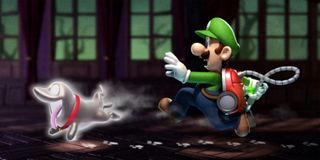 Who you gonna call? Well, if you're hunting ghosts on the Nintendo 3DS, then the answer to that question is actually "Luigi." Mario's kid brother is back in the ghost busting spirit and, come March 24, he'll be ready to roll in Luigi's Mansion: Dark Moon.
Announced during E3 2011, Luigi's Mansion: Dark Moon see's the green-clad plumber donning his trusty Poltergust 5000 ghost catching vacuum in order to investigate a whole new set of haunted mansions. Each new location is filled with ghosts to bust, puzzles to solve and treasure to locate. You can interact with just about every object in the environment, so you'll want to be an especially thorough investigator if you plan to get the most out of Dark Moon. Luckily, you'll also have new abilities to help you along as Luigi uncovers the game's numerous secrets and locates the pieces of the mysterious Dark Moon.
According to Nintendo of America's executive VP of Sales and Marketing, Scott Moffitt, Luigi's Mansion: Dark Moon kicks off the "Year of Luigi" as the character stars in titles like this one, Mario and Luigi: Dream Team, Mario Golf: world Tour and New Super Luigi U DLC for New Super Mario Bros. U.
"…Luigi's Mansion: Dark Moon delivers an original adventure starring Mario's not-so-brave brother," Moffitt said. "Packed with multiple mansions to explore, secrets to discover and a new multiplayer mode to enjoy, the game is a fitting tribute to one of gaming's most unsung heroes."
You can find out more about that multiplayer mode by checking out one of our previous posts. You can also see the game in action in a recently released new trailer.
Otherwise, get ready to hunt some ghosts on the go as Luigi's Mansion: Dark Moon releases this coming Sunday, March 24.
Your Daily Blend of Entertainment News
Staff Writer for CinemaBlend.