Maingear Desktops To Include Nvidia GTX 970, GTX 980 GPUs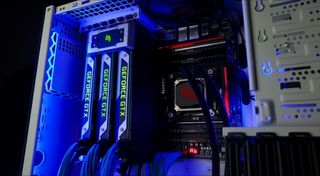 Nvidia has just announced the availability of the brand new GeForce GTX 970 and the GTX 980. Both cards have come onto the scene with a ton of horsepower under the hood and Maingear has announced that both cards will be included in their latest home desktops.
First up, DSO Gaming is reporting that Nvidia announced the details, benchmarks and pricing for the Maxwell-based GTX 9xx cards.
The both Maxwell GPUs contain 4GB of GDDR5 VRAM with the memory clock speed running at 7ghz on a 256-bit bus. You can see how both of them compare and at their price points below. Check it out.
Additionally, both cards are built for the latest DirectX 12 technology and the shader technology has been optimized for full voxel-based global illumination – a lighting technique that enables engines to directly influence the light through indoor and outdoor environments from a single light-source, hence the name "global illumination". We'll be seeing this rendering technique come into play quite a bit on PC titles with engines such as the Unity 5 and potentially the Unreal Engine 4 over the next couple of years.
Both GTX 9xx cards will also support multi-frame anti-aliasing and dynamic super resolution for those of you who like playing your games in the glorious 4K resolution.
These beastly cards will be made available in the very high-end Maingear gaming desktops, instantly putting anyone who purchases such a desktop in the lord-tier status of PC gaming.
Wallace Santos, CEO and Founder of Maingear commented about the new desktop and GPU combo, saying...
Funny how that car analogy works... ever since Nvidia started using the GeForce GTX brand it always sounded like they were referring to the GPUs as muscle cars.
Anyway, the new 970 and 980 come with G-Sync technology for tear-free frame rendering, along with GameStream technology so you can stream your games from your desktop to the Nvidia Shield. It's still hard for me to see the appeal of the Shield if you already have a rocking desktop; it just kind of seems redundant, and a bit cumbersome for as far as mobility goes.
Anyway, the GTX 970 and GTX 980 will be made available in select Maingear desktop brands, including the SHIFT, F131, Vybe, Rush and Force.
You can learn more about the desktops and the GPUs by paying a visit to the official Maingear website. Additionally, you can check out the benchmark results for the GTX 980 below, and witness how terribly unoptimized Watch Dogs is compared to other games on the list.
Staff Writer at CinemaBlend.
Your Daily Blend of Entertainment News
Thank you for signing up to CinemaBlend. You will receive a verification email shortly.
There was a problem. Please refresh the page and try again.