Mario Kart 8 Wii U Pre-Order Bundles Now Available At Best Buy, GameStop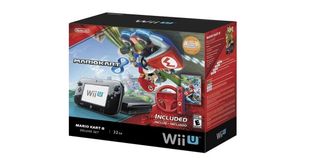 Nintendo first rolled out some Wii U bundles containing Mario Kart 8 in the PAL territories, but now they're bringing the bundles to the NTSC department.
Nintendo Everything is reporting that Nintendo's specialized Mario Kart 8 Wii U pre-order bundle is currently available at participating retailers, including both Best Buy and GameStop.
The bundle costs a rather steep $329.99. However, Nintendo Everything rolls out a very bevy list of items that are included in the bundle...
That's a lot of great stuff. Wow. In fact, you're getting two games, two controllers, a console and a free accessory for $170 less than the Xbox One, which doesn't even come with a cable so you can charge your AA battery-operated controller! I mean, the Wii U is just so much larger than the Xbox One when it comes to value for your dollar.
The great part about it is that Nintendo is standing by their word; they're honorable to a fault. They aren't arrogating the needs of consumers with walled-gardens, NSA spy-boxes and DRM shoved so far up the rectum of consumers that when you sneeze you have to sign a EULA to verify that the phlegm coming out of your orifice actually belongs to you and not the company you signed your soul over to.
Nintendo's claim to marketing prominence in 2014 is coming to fruition like a Presidential candidate actually holding true to a promise made during the primaries (even though that's about as rare as finding an episode of Game of Thrones that doesn't cause a social outcry of some sort).
The Big 'N's efforts haven't been done in vain, either. Mario Kart 8 has steadily moved up Amazon's charts like Justin Bieber becoming the number one requested male prison inmate that general pop would love to see drop the soap.
Not too long ago the game had sold out on Amazon in pre-orders alone. If Nintendo could get a repeat (or better yet, a threepeat) of that scenario then there's no doubt in my mind that the Wii U could make a stark comeback against the PS4 before summer is over with.
The console war just keeps on getting more and more interesting by the day.
Excellence arrives for the Wii U beginning May 30th.
Your Daily Blend of Entertainment News
Staff Writer at CinemaBlend.