Mass Effect 4 Marriage Proposal Will Make You Jealous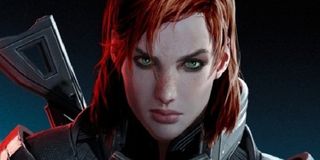 BioWare recently invited a gamer to play one level from Mass Effect 4. What she didn't know, though, was that the invitation was part of an elaborate marriage proposal.
A fan named Jackie asked BioWare Montreal to help her propose to her partner Amy, a fellow Mass Effect enthusiast. Writer Ann Lemay, lead level designer Colin Campbell, and QA analyst Barrett Rodych volunteered to help her with the surprise.
"I love being married. It's my favorite thing about my life, and it's a huge amount of what I enjoy about living, but being a videogame designer doesn't often give me the opportunity to help someone else have a marriage," Campbell explained to BioWare Blog. "This is rare and something that's almost never going to happen to anyone in the industry, so as soon as I saw the opportunity, I jumped right on it."
Studio manager Marie-Renée Brisebois sent a letter to Amy and Jackie telling them that they had won a fake contest called "A Day with Our Devs" at PAX East. The grand prize was a visit to BioWare Montreal and a chance to try out Mass Effect 4 before anyone else.
In Amy's hands-on demo of the game, she was asked to investigate a drone lab that recently went dark. What she didn't realize, though, was that this level was built specifically for a marriage proposal. She found subtle references to the couple's relationship throughout the facility. BioWare also included "safety nets" to ensure that she wouldn't die while making her way through the mission.
Eventually, Amy found a room with a lone console in the middle. Her and Jackie's nicknames for each other were spray-painted on the wall. She turned on the console to find a message waiting for her.
Jackie then proposed. Amy said yes. Half of this article's readers said, "Aww." The other half said, "Crap, I should've asked BioWare to help me propose. They would have let me play Mass Effect 4!"
Mass Effect 4 still hasn't been officially announced yet. The title and many aspects of the game are still a mystery. We do know, that the game will star a human hero who isn't Shepard. However, he may encounter familiar faces on his journey. The new protagonist can explore planets with a revamped Mako.
Though the game is in playable form, it still seems to be far from release. BioWare has only released concept art, renders and a prototype video thus far. BioWare's unwillingness to share screenshots or actual gameplay footage yet suggests that Mass Effect fans have a long wait ahead of them - a fact that makes this in-game marriage proposal all the more special.
Your Daily Blend of Entertainment News
Staff Writer at CinemaBlend.