Mass Effect 4 Multiplayer Confirmed By Job Listing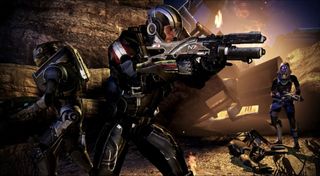 A big surprise in the previous Mass Effect outing was the game's multiplayer. Whether you fell on the side of thinking it was unnecessary or fell on the side of thinking it was awesome, EA and BioWare have opted to focus on servicing gamers who did like the multiplayer.
MP1st is reporting that a job listing for an "Online Producer – Mass Effect" has popped up. The ad is for the BioWare Montreal branch and states that the job will require the candidate to be able to...
This was also followed up by a tweet from BioWare's senior development director, Chris Wynn, who let the gaming community know that the position was to help shape the online component for Mass Effect 4.
The multiplayer in Mass Effect 3 was actually praised as being better than expected.
One of the things that had a lot of gamers leery about Mass Effect 3's multiplayer was because previous to the implementation of that feature EA was going around touting how they weren't going to be green-lighting anymore single-player only experiences.
However, Mass Effect 3's multiplayer was well rounded enough to add plenty of replay value to the game, post-launch. Despite the ending debacle and the on-disc DLC fiasco, a lot of gamers came back for more heaping helpings of multiplayer DLC in Mass Effect 3.
With EA moving forward with the multiplayer component in Mass Effect 4, this should be an interesting turn of events, especially now that the newest game is running on the Frostbite 3, the same engine that powers Battlefield titles, as well as the upcoming Star Wars: Battlefront game that DICE is working on.
According to Electronic Arts, Mass Effect 4 won't be built off the base of Dragon Age: Inquisition but it will have some refinements that the team used based on the available technology.
Right now we don't know a whole lot about the next Mass Effect game. What we do know is that there will be a brand new hero in the game that isn't Commander Shepard. Who the new face of the franchise is is anyone's guess. However, we do know that the next game will focus heavily on exploration and planet travel. How do we know this? Well, BioWare revealed on a few occasions that the next game will focus a lot more on the terrain traversal unit, the Mako. This means that we're likely to see more foreign planets and hopefully a bigger reliance on exploration.
Right now we still don't have a date for when we can expect the next Mass Effect title but at least we know that BioWare is making steady headway on the game and that there are some worthwhile past features making a return on top of being built on one of the most advanced game engines around.
Your Daily Blend of Entertainment News
Staff Writer at CinemaBlend.
Your Daily Blend of Entertainment News
Thank you for signing up to CinemaBlend. You will receive a verification email shortly.
There was a problem. Please refresh the page and try again.