Mel Gibson's Brother Wants To Voice Max In Upcoming Mad Max Game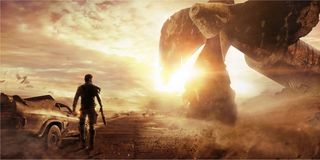 A lot of fans of the titular Max Rockatansky have been very vocal about the upcoming movie and video game... a game, I might add, that's based on the popular dystopian road-raging future envisioned by George Miller. Avalanche Studios is heading up the development and surprisingly, Mel Gibson's real life brother wants to take the role of the lead.
Aussie Gamer was sent an audio demo of Mel's brother, Donal Gibson, as he puts on his best road warrior impression in a short clip set to the tone of apocalyptic, asphalt warfare. There's no sense in delaying the inevitable, so here you go... take a listen and decide if Donal is right for the part.
I'd have to echo Aussie Gamer with a resounding "Yes!" in terms of Donal's capabilities for fulfilling the role. He sounds just like his brother, and there's a nice merit of grit, desperation and depth there in his voice, all of which are key factors for making or breaking a video game character you're likely to spend anywhere between eight to 80 hours with. Donal is also a prolific voice actor in his own right and so it's not a far-off possibility that he could be a perfect fit for the role.
Avalanche Studios has not made any announcements about the voice casting for the upcoming Mad Max game, which originally debuted back during the Sony press conference at E3 this past June, but they did mention that they're eying an "Aussie accent" for the hero.
While I don't doubt that Avalanche will craft an amazing game when it comes to mechanics and features -- as evidenced with their Just Cause series -- I do worry about their story telling and character development... two components that have been lacking in their previous outings. But heck, even if they poop out a piss poor script, maybe Donal can turn it to gold? Line delivery is the reason Arnold Schwarzenegger became a superstar... and to a lesser extent, his big muscles.
Anyway, we haven't seen any actual in-game, playable footage of the upcoming Mad Max, and it's still a year off from release. Perhaps there's still time to convince Avalanche that Donal Gibson, the still working and still sane brother of the two, is the next best thing for their upcoming game just short of the Crazy One Himself, Mad Mel?
If you think Donal needs to have a crack at it (and let's hope his working costs aren't too exorbitant) just feed the machine by posting a comment on Avalanche Studios' official Facebook page or sending them a Tweet, letting them know you'd like to hear Donal as the role of Max in the upcoming game over on their official Twitter page.
Mad Max is set to release around the time of the movie for the Xbox One, PlayStation 4 and PC.
Staff Writer at CinemaBlend.
Your Daily Blend of Entertainment News
Thank you for signing up to CinemaBlend. You will receive a verification email shortly.
There was a problem. Please refresh the page and try again.