Metro Redux Launches For Xbox One, PS4, PC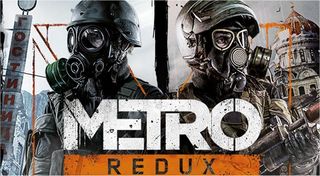 Two of the most visually stunning and immersive games released during the seventh generation of gaming has been 4A Games' Metro 2033 and Metro: Last Light, two first-person shooter titles that leaned heavy on horror and atmospheric suspense to tell a desperate tale about surviving in Russia's collapsing and corrupted metro railway system after a post-nuclear war. Well, both games have been remade and redone for the eighth generation of home consoles and are now available both digitally and physically for the Xbox One, the PlayStation 4 and on Steam for PC.
Metro Redux is a compilation pack containing both Metro 2033 and Metro: Last Light. Gamers will be able to experience the titles from start to finish with both games running on the latest graphics technology provided by 4A Games.
As noted in the press release [via Blues News]...
In addition to this, both games will allow for players to play Ranger Mode, where the HUD is gone, ammo is limited and the monsters are completely unforgiving.
I'm here to tell you that the Metro games are no cakewalk and they're the sort of games where you'll have to stay on your guard at all times. It's like S.T.A.L.K.E.R. meets Doom. You can scope out the launch trailer for Metro Redux below.
As mentioned by the developers previously, both games have been upgraded to utilize the latest technology that 4A has been improving since the release of Last Light. This means that the weapons handle better, there are improved light maps and sourcing, as well as all new weather effects and enhancements. The A.I., for both games has also been improved to better reflect adaptation to the environment and player behaviors, giving gamers both a thrilling and sometimes unpredictable experience (or at least, theoretically so).
One of the best parts about Metro to me was the fact that the dangers sometimes lurked around in the areas in ways that weren't always easily predictable or standard-fare, forcing players to have to adapt or change the way they progressed through a level.
At one point I even managed to get stuck because it became so difficult trying to take on one group of mutants that I practically ran out of ammo before completing the segment and had to redo the part over and over and over again because I screwed up earlier. The game is harsh, I'm here to tell you.
You can pick up a digital copy of the Metro Redux bundle pack together or separately for the PS4 and Xbox One, or get both games together in the Metro Redux pack together in a physical package. You can learn more about the game by visiting the official website.
Staff Writer at CinemaBlend.
Your Daily Blend of Entertainment News
Thank you for signing up to CinemaBlend. You will receive a verification email shortly.
There was a problem. Please refresh the page and try again.