Mighty No. 9 Gets Pre-Order Bonuses, Signature Edition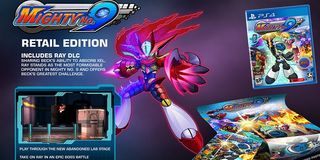 Mighty No. 9 is nearly ready for action and, when he arrives, he'll be bringing a few surprises along for the ride. Expect three-way cross-buy on PlayStation consoles, pre-order bonuses, and a special "Signature Edition" of the game that boasts a spiffy statue.
Mighty No. 9 is one of the biggest indie success stories to come out of a Kickstarter campaign. Developed by Comcept and the brainchild of Keiji Inafune (You know, the dude behind Mega Man), Mighty No. 9 raised nearly $4 million en route to becoming a reality.
Beck will be ready to leap into action come Sept. 15, so the team at Comcept and Deep Silver today decided to make a few special announcements concerning pre-orders and special editions, as well as launch a brand new gameplay trailer.
For starters, PlayStation gamers will be happy to know that Mighty No. 9 will be a three-way cross-buy title. Announced via the PlayStation Blog, purchasing Mighty No. 9 for either the PlayStation 4, PlayStation 3 or PlayStation 3 will make the game available on the other two consoles at no additional charge. Also, this cross-buy option will be available even if you purchase the physical version of the game for the PS4.
That physical version will come with a couple of extra goodies, too, including a small art book, a poster, and an exclusive level/boss fight that unlocks an entirely new playable character, Ray. For those not planning on going physical, the announcement does mention that the Ray content will be added as DLC, so here's hoping it'll also be made available for purchase at a later date.
No matter what version of the game you plan on grabbing, pre-ordering will also net you a special retro skin for Beck, making him look extra blocky and adding an old-school "pew pew" noise to his blaster.
Finally, if you want to get extra fancy, you can get your hands on a "Signature Edition" of the game, which includes a 6.5" action figure, for 60 bucks.
Mighty No. 9 spawned out of Inafune's desire to keep the Mega Man legacy moving forward, despite complications behind the scenes. It should be considered a spiritual successor to that legendary series, which should be plain to see in today's new trailer. It's called "Beat them at their own game," and it demonstrates how Beck can absorb the abilities of his fallen foes, similar to another blue-clad hero.
Your Daily Blend of Entertainment News
Staff Writer for CinemaBlend.