Mega Man 6 Assaults Wii U This Week, With Little Else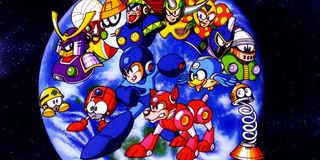 Well, boys and girls, I've got some good news and I've gone some bad news in regards to the weekly content update for Nintendo platforms. The good news is that Mega Man 6 is being added to the Wii U virtual console this week. The bad news is that we still have another week to wait before the homage to the Blue Bomber, Azure Striker Gunvolt, finally gets here.
For those of you who aren't aware, there's a rad game coming to the 3DS eShop that bears a striking resemblance to a certain Capcom title featuring a robot hero and his quest to overthrow a mustachioed villain and his army of mechanical meanies. The folks at Inti Creates have been very open about their inspirations, however, and the father of Mega Man himself, Keiji Inafune, is deeply involved with the project. There's even going to be a mini-game featuring a crossover between Gunvolt and the hero of Inafune's new game, Mighty Number 9, but that's putting the cart well before the horse. For starters, Azure Striker is a game we can chat about next week, when it actually releases.
To help tide you over, though, I'm just going to leave this right here for safekeeping. And refer you to the game's official website to keep the hype train rolling through the next seven days.
So, in the meantime, what can you play on your Wii U and 3DS this week? Well, as I said in the intro, Nintendo's home console will this week launch a Virtual Console version of Mega Man 6 (already available on the 3DS), allowing new school gamers to take on some old school challenge in a white-knuckled assault on a whole new series of Robot Masters.
That'll be complemented by the Wii U Virtual Console release of Life Force, as well as Midtown Crazy Race for the eShop. Finally, the Wii U will be getting a digital version of Disney Infinity, meaning those of you who have access to a standalone portal and those Disney-infused action figures can dive into a toy box full of magical adventures.
As for the 3DS, pickings are once again a bit slim this week. The Virtual Console will play host to Xtreme Sports, as well as the eShop games Demon King Box, a sort of strategy action game, and the chibi brawler based on the beloved fighting series, BlazBlue-Clonephantasma.
If nothing there catches your fancy, then Nintendo is also dishing out another dose of discounts this week. The Wii U will have slashed price tags for Abyss, Chasing Aurora and Nano Assault, while the 3DS will sport discounts on Nano Assault Quell Reflect and Aqua Moto Racing.
Staff Writer for CinemaBlend.
Your Daily Blend of Entertainment News
Thank you for signing up to CinemaBlend. You will receive a verification email shortly.
There was a problem. Please refresh the page and try again.