Minecraft And Mass Effect Are Finally Getting Married On PlayStation Consoles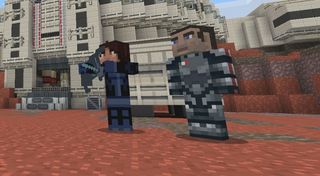 It took nearly two years for the Xbox 360's Minecraft skins to make the leap to the PlayStation consoles, but they're finally available. That's right, you can now explore Minecraft wearing Mass Effect's N7 armor, aiming to bring peace to the land as a vanguard or dispense a little wild justice as a renegade.
Game Informer wrote a short piece explaining how PlayStation gamers can finally get in on the goodness that is Mass Effect... in Minecraft.
Nearly two years ago, 4J Studios and Microsoft released the Mass Effect texture pack on the Xbox 360 version of Minecraft. And now they're hoping to capture the PlayStation party, despite being terribly late to said party.
So what do you get in the pack? You get 36 rocking skins, 22 different music tracks, and tons of new texture packs (so you can recreate worlds or objects from BioWare's popular space-age RPG). Plus, you get decorations and knitted animals to round out the experience.
Owen Hills from Mojang commented on the new pack, mentioning on the PlayStation blog...
This is a pretty cool option that should enable players to manipulate their Minecraft worlds to mimic the one that BioWare made famous on home consoles and PC.
The fact that Minecraft was recently updated for the PlayStation is actually a pretty good sign that, despite the fact that Microsoft now owns Mojang, PlayStation owners aren't being left in the cold.
It was a common worry that under the ownership of Microsoft there would be some drastic changes to what kind of content gamers would be eligible to receive. Well, it looks like Microsoft was right in saying that nothing would outwardly change with the content already available on other non-Microsoft systems, and that updates and DLC would still be made available to gamers.
I'm sure Microsoft's endgame involves unleashing an exclusive new Minecraft game on Windows 10 PCs and the Xbox One. Of course, there's no way to know that's what Microsoft going to do, but they obviously didn't fork over billions of dollars for a development studio without some kind of plan.
For now, though, Minecraft will continue to receive updates that are shared across multiple platforms, as is evidenced with the release of the Mass Effect content for the PlayStation consoles.
I'm sure a lot of gamers will now build up their own space stations and Reapers along with the Creepers while dressed as their favorite Commander Shepard. The Mass Effect pack is available now for PS3, PS Vita, and PS4 owners, along with the new pattern pack. The pattern pack is also available for Xbox 360 and Xbox One owners for only $0.99.
Staff Writer at CinemaBlend.
Your Daily Blend of Entertainment News
Thank you for signing up to CinemaBlend. You will receive a verification email shortly.
There was a problem. Please refresh the page and try again.