Minecraft Sold 450,000 Copies On Christmas Day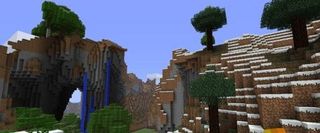 The open-world building game Minecraft enjoyed a big spike in sales thanks to Christmas. Designer Markus "Notch" Persson revealed over Twitter that over 450,000 copies of the game were sold on that day.
In Minecraft, players explore a randomized world. They collect materials and then use them to construct buildings. These structures allow them to stay safe from monsters that come out. Survival's only a small part of the experience, though; what's really hooked people is the fact that it lets them be creative and build any structure they can imagine.
Minecraft is playable on PC, Mac, iOS, Android and Xbox 360. Presumably a lot of the game's sales were from people purchasing it for the new device they received for the holiday. They could've also received a gift code for the PC/Mac or mobile versions.
Mojang's game is one of the biggest hits of the past few years. As of December 13th, sales for the franchise had topped 17.5 million. About 8.3 million of those copies were sold on the PC.
In the days before Christmas, 2 Player Productions released a documentary about Minecraft. The film follows Mojang through their first year of operations, as the game grew into a mega-hit.
Staff Writer at CinemaBlend.
Your Daily Blend of Entertainment News
Thank you for signing up to CinemaBlend. You will receive a verification email shortly.
There was a problem. Please refresh the page and try again.