Minecraft Xbox One Edition Hitting Stores In November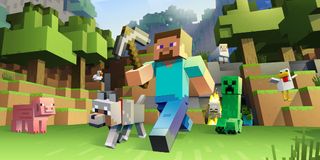 Xbox One owners will soon have a new way to buy Minecraft. Microsoft announced today they're going to sell boxed copies of the game later this fall.
"Know any budding creators who haven't upgraded to Minecraft: Xbox One Edition yet?" the company said on Xbox Wire (opens in new tab). "If so, we'll help you cross one item off your holiday shopping list. Following the digital debut of Minecraft: Xbox One Edition earlier this month, we're excited to announce the smash hit game will also hit store shelves beginning on Nov. 18 for $19.99 USD."
Minecraft: Xbox One Edition allows players to create worlds up to 36 times larger than in the Xbox 360 version. Developer 4J Studios also pushed the draw distance so players can see more of their world at the same time. The game supports online sessions of up to eight players and local multiplayer for up to four.
4J Studios introduced a few features to make the transition from Xbox 360 as easy as possible. Any worlds from the 360 version can be imported into Xbox One. All of the purchased DLC, including skin and texture packs, carry over to the new platform as well. All of the add-ons released for Xbox 360 are on sale for XB1 in case you missed them the first time around.
Microsoft allows owners of the Xbox 360 version of Minecraft to upgrade to the new-gen edition for $5 instead of the usual $19.99. This offer is valid for the next year or so. It doesn't matter whether you own the physical or digital version on Xbox 360. However, the discount price is only available for the downloadable Xbox One version.
The digital version of Minecraft Xbox One debuted on September 5th, a day after its PS4 counterpart. The PS4 version will be getting a boxed copy as well this fall, though a month earlier. Sony previously announced that Minecraft PS4 Edition will hit stores on October 7th.
The retail release of the new-gen Minecraft will be the first major move in the franchise since Microsoft took ownership. Microsoft bought Mojang and Minecraft earlier this month for $2.5 billion.
Staff Writer at CinemaBlend.
Your Daily Blend of Entertainment News
Thank you for signing up to CinemaBlend. You will receive a verification email shortly.
There was a problem. Please refresh the page and try again.