Minecraft Xbox One And Xbox 360 Get Horses Update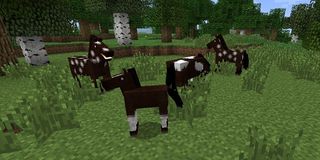 It's like the old saying goes: You can lead a horse to Minecraft, but you can't make it drink. Or something like that. The point is that Xbox versions of Minecraft now boast horses, so get ready to tame the blocky wild west, one creeper at a time.
It's been kind of a big year for Minecraft. The made waves on pretty much every console known to man, then the company was sold to Microsoft for a ridiculous amount of money, and now it's getting horses on the Xbox versions of the game. And let's not forget about the big news just last week, including the fact that the former Mojang studio head bought a massive house with all of that Minecraft moolah, and then Telltale Games announced they'd be making a new adventure game based on the runaway franchise.
But, while the console versions of Minecraft are great and all, they're not quite up to par with the PC version of the game. They play like a dream and all, they're just missing some of the content that the original version of the game now boasts. Well, that gap narrowed a bit last week for the Xbox versions of the game, with the latest update adding in stuff like stained clay, fireworks and, most importantly, the ability to tame and ride horses.
According to Gameinformer, update 1.6.4 has now gone live for the Xbox versions of Minecraft, plugging in all sorts of new goodies.
For those of you who are new to the game, this update also introduces a tutorial for players to work through, introducing you to facets of Minecraft both new and old. Sure, you could take the old school route and try to figure out everything for yourself, or you could now take the slightly less confusing route and have some key aspects explained to you along the way.
As stated above, Microsoft purchased Mojang earlier this year, but promised that support would continue to roll out for all other Minecraft platforms, including the versions of the game released to the PlayStation. Seeing the horse update pop up on the Xbox 360 and Xbox One first shouldn't really come as a surprise, though. If I was a big publisher and just bought a developer with a game on multiple platforms, it would go without saying that I'd prefer my console's versions of the game to get priority when it comes to developing and releasing new content.
The PlayStation versions of Minecraft have received the update as well but only in Europe. 4J Studios said on Twitter that the North American version of the patch is still in the works:
Staff Writer for CinemaBlend.
Your Daily Blend of Entertainment News
Thank you for signing up to CinemaBlend. You will receive a verification email shortly.
There was a problem. Please refresh the page and try again.