Mirror's Edge Catalyst Announces A Closed Beta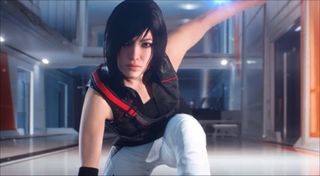 Companies like Electronic Arts and Ubisoft have been using beta campaigns as a way to lure in gamers to get excited for upcoming titles, and Mirror's Edge Catalyst happens to be one of them. Registration for the closed beta has opened up right now for Xbox One, PS4 and PC gamers. The CBT will take place some time before the game launches on May 24.
Destructoid is reporting that beta sign-ups are live right now over on the official website. You will need an EA account to register, and if you're on PC, you will need an Origin account.
In addition to announcing that the beta registration is open, they also unveiled a new story trailer for the game, covering how Faith is part of a group of runners being hunted by a man named Kruger. Whatever they stole from him is important enough for him to want to kill the runners for it. You can check out the story trailer below.
For those of you unfamiliar, the game is a prequel and takes place before the events of the original Mirror's Edge. It appears as if DICE wants to focus more on a character-oriented Faith. These kinds of tales can go one way or another. Focusing too much on the character can sometimes take away from the character and the story, similar to Team Ninja's Metroid: Other M, where a lot of the intrigue and characterization of Samus was flattened under poor writing and too much introspective exposition.
Nintendo has managed to avoid a lot of these problems when they develop their own games by limiting how much the characters talk and how much personalization they're given. Usually they try to rely on events that give the protagonist an impetus to complete the mission and very little beyond that. DICE will have to tread carefully with Mirror's Edge Catalyst so that the bulk of the game is about the parkour and the traversal of the gorgeous environments. Too much linearity or a focus of sculpting the gameplay around the narrative could result in another bomb like EA's reboot of Syndicate in 2012, which was more-so focused on the character story as opposed to letting players have freedom in how they developed skills and gathered equipment.
For now it's tough to say exactly how Mirror's Edge Catalyst will turn out because we've seen so very little of the actual gameplay. We do know that they removed the use of guns altogether (and the removal of features always worries me) and they simplified the combat down to make it more accessible, but I'm hoping that they didn't strip so much out of the game that it becomes a first-person version of Assassin's Creed. Again, it's a fine balancing act between keeping the game challenging and making sure it's fun and accessible.
I loved everything about the original Mirror's Edge, so DICE will have a tall order to fill with the sequel. As for the beta, you can register now and wait for an e-mail confirmation letting you know whether or not you've been accepted. The free-running, first-person platformer built on the Frostbite 3 engine will launch this spring on May 24.
Staff Writer at CinemaBlend.
Your Daily Blend of Entertainment News
Thank you for signing up to CinemaBlend. You will receive a verification email shortly.
There was a problem. Please refresh the page and try again.