Mortal Kombat X Roster Adds Two More Classic Characters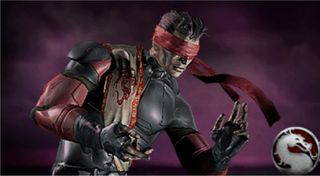 You asked for them and NetherRealm is delivering in spades: Both Kenshi and Johnny Cage will make a return in Mortal Kombat X. This is great news because Kenshi instantly became one of my favorite characters when he debuted in the series and it's awesome to see that he's making a return.
IGN managed to capture some quotes and information from an interview that was pulled from YouTube where NetherRealm Studios' senior producer Adam Urbano confirmed that...
Now that's interesting.
After finding out that a descendent of Kenshi was going to join the roster the die-hard fans of Mortal Kombat felt like Kenshi himself should make a return.
The blind warrior with his telekinetic capabilities gained a lot of popularity for his zen-like demeanor and kick-butt tai-chi fighting moves. The character's unique mix of unorthodox fighting and being able to completely wreck an opponent without getting close made Kenshi an extremely deadly combatant. It's really no surprise that many would want to see him make a return to the franchise.
According to Urbano, at least he's coming back and that should put a ton of excitement into the hearts and minds of Mortal Kombat fans the world around.
As for Johnny Cage? Well, he's a classic character from the original. Mirrored after the likes of Jean-Claude Van Damme and having gained popularity for his "ball breaker" punch that Van Damme made famous in the 1988 flick Bloodsport, the character has evolved and grown as half mockery and half homage to the muscles from Brussels while also establishing his own Americana idiosyncrasies. I'm curious to see how Cage has aged and what he'll be like in Mortal Kombat X. While Kenshi is definitely easier to imagine I'm a bit at a loss as to how NetherRealm will handle Johnny this time around given how over-the-top he was in Mortal Kombat 9.
The IGN article notes that Urbano denies that the game will have Babalities or Animalities. I can't say I'm either surprised or shocked. I was never really much of a fan of the Babalities or Animalities. I thought a lot of them were pretty ridiculous and didn't waste much time learning them. Friendships? Now that's a whole different story. It was pretty cool laying into someone throughout the entire match and then instead of finishing them off with a Fatality you could reverse it and do a Friendship. Humiliating, funny and a nice change of pace. But there's no love-loss from my end for the lack of Babalities and Animalities.
At least Mortal Kombat X fans will be excited to know that Kenshi and Johnny Cage are making the return. Urbano also hints at a few more legends and familiar faces, but we can't know for sure if they'll be playable at any point or if they'll just be background fodder for the story.
Mortal Kombat X is building up to be a pretty big and highly anticipated AAA title due for release on April 14th, 2015 for the Xbox One, Xbox 360, PS3, PS4 and PC. Need more info? Feel free to pay a visit to the official website.
Your Daily Blend of Entertainment News
Staff Writer at CinemaBlend.
Your Daily Blend of Entertainment News
Thank you for signing up to CinemaBlend. You will receive a verification email shortly.
There was a problem. Please refresh the page and try again.