Nintendo 2DS Launches Saturday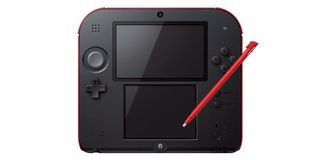 Hey, kids! Are you tired of playing your games in three boring dimensions? Ever wished your portable console would be more cumbersome to fit in your pocket? Is it just me or could everyone use a handy doorstop every now and again? Well, you're in luck, as Nintendo prepares to launch its latest advancement in cutting-edge gaming technology, the 2DS, this Saturday, Oct 12!
Announced in late August, the 2DS is essentially a 3DS without the 3D and featuring a new, non-folding design. All jokes aside, I'm sure there's a market out there for people who are interested in 3DS games without using the 3D functionality, I'm just not entirely sure why said interest isn't filled by the current Nintendo handheld console with, oh, the 3D slider turned all the way down?
Nintendo's answer to that is simple: Offer it as an "entry level" gaming platform and get rid of the 3D entirely, making it less intimidating to parents of small children and, thanks to a slightly lower price point, more attractive to folks who feel like saving enough to buy a game with their new handheld device.
"The handheld console is taking on a new distinctive fixed slate form design and has been created for those looking for additional variety in their handheld gaming choices," reads a statement from Nintendo. "It is an entry point into, or a new way to enjoy, the Nintendo handheld experience at a value price and will be available for purchase in two distinctive color combinations."
The 2DS will be available in both blue and red flavors and, other than the loss of 3D, pretty much retains all of the 3DS functionality including the same basic controls (though rearranged a bit to fit the new console layout), backwards compatibility with all DS games and internet functionality including access to the eShop, multiplayer gaming, StreetPass and SpotPass. Along with the console and the charging cord, you'll also get a 4GB memory card in the package, all for $130. That's a $40 savings over the standard 3DS price tag.
The 2DS is launching alongside Pokemon X/Y this weekend, pretty decent timing for making sure as many gamers as possible clap peepers on this latest portable console.
That's great for those of us who follow the games market and understand all of these differences and similarities, but my concern is for the parents and gamers who are simply going to be confused by yet another Nintendo console, especially one with a name that only adds to the problem. It's not hard to imagine a parent trying to decide what to get their kid for Christmas and becoming overwhelmed when they discover a 3DS, a 3DS XL and a 2DS. The name alone suggests that it's a step back for the console and, even if there's a giant sticker on the box explaining that it plays 3D games, I don't doubt many will overlook the 2DS because "none of the games on the shelf say they're for the 2DS."
Then again, maybe I'm not giving folks enough credit and my concerns about branding and whatnot are completely unfounded.
I guess we'll find out soon, as the Nintendo 2DS will finally be on store shelves in just a matter of two days.
Staff Writer for CinemaBlend.
Your Daily Blend of Entertainment News
Thank you for signing up to CinemaBlend. You will receive a verification email shortly.
There was a problem. Please refresh the page and try again.