Nintendo's Animal Crossing Drops The N-bomb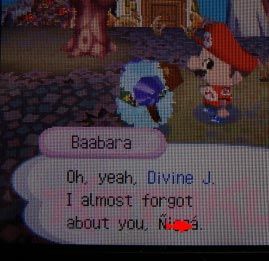 This week Nintendo sent out a copy of Animal Crossing: Wild World for the DS to gaming journalists in preparation for the launch of Animal Crossing: City Folk. It should've been a good PR move but was hampered by the sudden in-game appearance of a sheep who liked to use the N-word.
That's right, a sheep. According to Kotaku, the white supremacist livestock NPC not only greets you with the nasty N-word but continues to use it in extended conversation. A statement by Nintendo summarizes it best:
"Previously played copies of the 2005 DS game Animal Crossing: Wild World were sent to 14 members of the media to demonstrate the ability of players to transfer items to the new Animal Crossing: City Folk for Wii. We regret that an offensive phrase was included without our knowledge via a wireless function that allows user-generated catchphrases to spread virally from one game to the next. This version is limited to 14 copies created for media review purposes only and is not available at retailers. We sincerely apologize for the incident and are working with media who received the game cards to return them to Nintendo immediately."
So it looks like this sadistic hip-hop/KKK sheep won't be available to regular folk so sorry all of you with an ironic sense of humor. Alls I can say is that someone is definitely losing their job over at Nintendo for this one.
Your Daily Blend of Entertainment News
Thank you for signing up to CinemaBlend. You will receive a verification email shortly.
There was a problem. Please refresh the page and try again.