Nintendo Announces Their Next President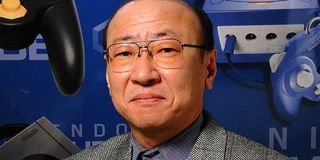 Nintendo has finally appointed a new president, announcing that Tatsumi Kimishima will help guide the company through what is likely to be a period of transition for the legendary game and console developer.
The gaming world was rocked earlier this year by the news that former Nintendo President Satoru Iwata had passed away at the age of 55 on July 11 following a long struggle with health issues. In Iwata's absence, Shigeru Miyamoto and Genyo Takeda took over in a temporary capacity while Nintendo searched for the right fit to take over the company on a more permanent basis.
According to a report from this morning's Board of Directors meeting, Nintendo has found the person from the job.
That revision begins with the naming of Tatsumi Kimishima as Nintendo's new president. While his name is likely unknown to most folks, he's been involved with the company for about 15 years. Most recently the Managing Director of the Human Resources Division, Kimishima has also served as the Director of Nintendo America, as well as Representative Director of The Pokemon Company, among other positions.
Miyamoto and Takeda won't be stepping too far away from the Nintendo helm, however. Miyamoto has now been named Creative Fellow while Takeda has been named Technology Fellow. Under these new titles, the duo will continue to assist Kimishima in his transition to President.
We're 100 percent rooting for Kimishima, but we'd be lying if we said he didn't have his work cut out for him.
The Nintendo 3DS is still going strong, but the Wii U continues to struggle despite breakout games like Splatoon, Mario Kart 8, Smash Bros and, more recently, Super Mario Maker hitting the scene.
There's also the fact that Nintendo is primed to release more information about its mysterious NX platform sometime in 2016. We imagine that's way too far along to experience any sort of major obstacles due to a change in leadership but, even so, that's quite the project for a new president to take over.
In short, Kimishima is taking over Nintendo during an important period that could have a major impact on the future of the company. There are a lot of pots simmering on the stove right now, none of which he served as the cook in preparing. But with support from folks like Miyamoto and Takeda, we're hopeful Kimishima and Nintendo will continue sailing along and soon make their way out of some choppy waters.
Staff Writer for CinemaBlend.
Your Daily Blend of Entertainment News
Thank you for signing up to CinemaBlend. You will receive a verification email shortly.
There was a problem. Please refresh the page and try again.